Did you wake up this morning to a cold shower? There's nothing worse than having no Hot Water when you really need it! If you have any issues with your hot water system, contact Mayfair Plumbing and Gasfitting in Adelaide, the Hot Water Wizards.

We understand that having no hot water is a major inconvenience, so we will always endeavor to get to you as soon as possible. We know that hot water problems can occur at any time, which is why we offer a 24/hour emergency service. So if you find yourself without hot water in the middle of the night or over the weekend, don't hesitate to give us a call.
Contact the Hot Water Wizards today for:
Gas hot water (storage and instant – electronic ignition, hydro and pilot light)

Electric hot water (storage, electric-assisted, and instant)

Solar hot water systems (closed couple systems with tank and panels on roof and split systems with panels on roof and tank on ground)

Heat pump hot water system (heat pump installations)

Hot water replacements
Our licensed plumbers and gasfitters will be there the same day and are always on time. Our Adelaide hot water service repair specialists will get your hot water running in no time.

Old hot water system disposed of free of charge
We are proud to offer a comprehensive hot water service, and we only use the latest and best products on the market. We can advise you on the most suitable system for your needs, and we will always install it to the highest standards. We also offer a maintenance service to keep your hot water system in top condition.
Gas hot water (storage and instant – electronic ignition, hydro and pilot light)
Electric hot water (storage, electric assisted and instant)
Solar hot water systems (closed couple systems with tank and panels on roof and split systems with panels on roof and tank on ground)
Heat pump hot water (heat pump installations)
Hot water replacements
Same Day Hot Water Replacement Service
Mayfair Plumbing and Gasfitting guarantee a same-day Hot Water System replacement service throughout Adelaide. We have portable Hot Water Services that can be put into any location at any time, ensuring you're never without Hot Water in your house or business. Also, check out our hot water system price guide. Also see our article on hot water prices.
We have a large range of new hot water systems available, and we will advise you on the best one for your needs. We can also install any make or model of a hot water system that you may already have.
We provide hot water repairs Adelaide services to clients throughout South Australia and can have a Hot Water Wizard to your place within the hour. We provide a 24/7 emergency call-out option for when you really need us.
Call the Hot Water Wizards at Mayfair Plumbing and Gasfitting in Adelaide today for all your Hot Water needs.
Check out our page on choosing the best hot water system or hot water heaters for your home.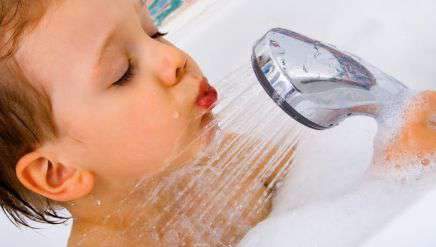 24/7 Hot Water Emergency Services
At Mayfair Plumbing, our local emergency water heater repair team specializes in saving our customers time and money through expertise and exceptional service.
Our technicians are well experienced and trained to handle all types of hot water emergencies, from cracked heaters and broken pipes to damaged systems and severe leaks.
We offer great value for your money, providing high-quality repairs and maintenance at a reasonable price. So whether you need an emergency fix on a cold winter night or the weekend, our friendly, knowledgeable technicians are here to help.
With our commitment to professional service and good value for money, there's no better team than ours when you need fast, hot water repair and effective solutions to all your plumbing needs. So don't hesitate – call us today!
We understand the importance of having a reliable and efficient water heater, so we work hard to get your system up and running as quickly as possible.
We also pride ourselves on being a friendly and customer-oriented company, so you can rest assured that you'll be treated with the utmost respect throughout the repair process.
Signs That Your Hot Water System Needs Replacing
Water Leaks:
If your hot water system is more than ten years old, it's probably time to consider replacing it. One of the most obvious signs that this needs to be done is water leaks around the tank or pipes.
These can lead to excessive water usage and higher utility bills, not to mention the potential damage they can cause to your home and belongings. Other worn components and inefficient heating methods can increase energy consumption and shorten the lifespan of your hot water heater.
Ultimately, the best way to prevent these problems is by simply keeping up with regular maintenance and staying on top of any issues as they arise. With timely repairs and a well-maintained unit, you can rest assured that your hot water system will continue functioning smoothly for years to come.
Rusty & Corroded Inner Water Tank:
A rusty water tank is a sign that your water heater is at the end of its lifespan. The deterioration of the metal tank causes this due to exposure to water and other elements.
As the metal rusts, it weakens and can eventually lead to leaks.
An easy way to check for rust is to check for browning on the water. However, this could also be an indication of sediment buildup or rusty pipes or faucets. A sure way is to drain and check the tank itself if you suspect it's rusty or simply call a professional to do a complete check on your hot water system.
Rust is caused by the oxidation of iron. This process is accelerated in the presence of salt, which is why hot water systems near the ocean are particularly susceptible to faster rust & corrosion.
Water Heater Noise:
If you've noticed your water heater making strange noises, it could signify that it's time for a replacement. Rumbling, popping, or banging sounds can indicate that the unit is overworked and struggling to heat the water properly.
This is usually caused by a build-up of sediment at the bottom of the unit. When the water is heated, the sediment expands and creates pressure on the tank's walls.
This wastes energy and can also lead to serious damage (cracks and leaks) if left unchecked.
If you notice any of these sounds coming from your water heater, it's important to have it inspected by a professional. They can determine whether or not the unit needs to be replaced.
Water Heater Not Heating:
hot water is an integral part of any home. Without hot water, doing things such as showering, washing dishes, and laundry becomes a lot more difficult.
There are several possible reasons why your water heater is not producing hot water. In the best-case scenario, it could be that the pilot light has gone out, the thermostat is turned down too low, and needs to be adjusted. In more serious cases, it could be a broken water heating element, a faulty gas valve, a dead thermostat, or sediment build-up.
No matter what the cause, it's important to have a professional take a look at your water heater as soon as possible. They will be able to diagnose the problem and get your hot water flowing again in no time.
Increased Demand For Hot Water:
A sudden increase in the demand for hot water supply reduces the efficiency of your system, making it to work harder and possibly break down. Such changes can be due to an increase in the number of people living in the household, a change in showering habits, or the installation of a new appliance that uses hot water.
This is especially true for older models that aren't designed to handle high demand. The system may not be able to keep up with the demand if multiple people are trying to use hot water simultaneously. As a result, the hot water in the faucet, showers, or taps may become lukewarm or even cold.
If you find yourself running out of hot water more often than usual, it's time to consider upgrading your system. A higher capacity modern hot water storage tank will be able to meet the demands of your household and prevent future problems.
Call Mayfair Plumbing for Hot Water Repairs & Maintenance
Contact us for a reliable same day hot water systems Adelaide services
Efficient Hot Water System Installations
Mayfair Plumbing and Gasfitting in Adelaide provides prompt and professional hot water services Adelaide for all types of appliances. We are Adelaide hot water specialists and work with a large range of hot water brands. Our licensed plumbers can quickly and cost-effectively identify and solve problems. We carry a large range of parts in our service vehicles allowing for same-day hot water service replacement in Adelaide.
Gas Hot Water Systems:
Gas water heaters are becoming increasingly popular due to their efficiency and environmental friendliness.
If you're considering making the switch to a gas water heater, it's important to consult with a licensed professional to ensure that you're getting the best system for your needs.
At Mayfair Plumbing, our team of experts can inspect your home and recommend the best gas hot water system for your specific requirements. Some popular choices include Bosch hot water systems, Rheem hot systems, and Rinnai hot water systems, all available in Adelaide.
We'll also make sure that you have all the information you need to make an educated decision about your new hot water system. With our help, you can be confident that you're choosing the right gas water heater for your home.
Electric Hot Water
An electric hot water system is a great option for many Adelaide households.
They are common and generally cheaper to install compared to solar and gas, but they cost more to run, especially due to the rising energy bills in Adelaide.
We have a variety of electric hot water systems and electric hot water heaters that fit every budget and home.
Usually, the storage/tank electric water heater is the most expensive option, but it will last longer and be more energy-efficient in the long run. If you're unsure which system is right for you or want to know why your water doesn't heat up, our friendly staff would be more than happy to help you figure it out!
Give us a call today, and we'll be happy to help!
Solar Hot Water Systems:
Solar hot water systems are one of the most efficient and reliable ways to heat water.
They use the sun's energy to heat water which is then stored in a solar hot water tank for later use. Solar hot water systems are great for the environment and can save you money on your energy bill, as well as reduce your carbon footprint.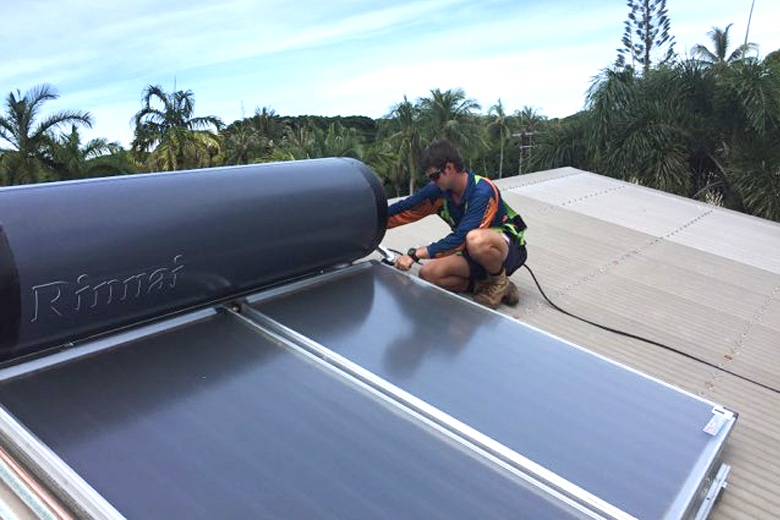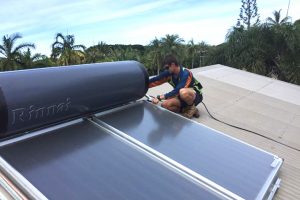 Also, unlike traditional heating systems, solar hot water systems require very little maintenance and have an extremely long lifespan, making them a cost-effective choice for homeowners, making them a popular choice for hot water systems in Adelaide households.
If you're looking for an efficient and environmentally-friendly way to heat your home's water, a solar hot water system is a great solution that is sure to meet your needs.
Heat Pump Hot Water Systems:
A heat pump hot water system is a great renewable energy-efficient option for homeowners who are looking for an efficient and reliable way to heat their water.
Unlike traditional heating systems, which require costly fuel sources and complicated maintenance, a heat pump diet water system works by using natural thermal energy to warm your water.
They look very similar to standard conventional electric storage units. However, they have a heat pump that sits at the top of the tank. This makes them more efficient as it doesn't have to generate new heat, merely transfer the already existing heat from outside.
This means that it uses far less energy than other methods and that it requires little to no maintenance over time. Additionally, these systems are designed to be easy to use, with intuitive controls and friendly interfaces that allow you to adjust your water temperature as preferred.
Give us a call today to learn more about how we can help you switch to a heat pump hot water heater! Our friendly, knowledgeable staff is here to answer all of your questions and help you make the best decision for your needs.
Quality Hot Water System Brands
We pride ourselves on being able to meet all of your hot water needs using the best quality hot water brands. Whether you're looking for a new system or simply need someone to install your existing one, we're here to help.
We carry a wide range of hot water systems from all the major brands, so you're sure to find one that's right for you.
And if you're not sure which system is best for your needs, we will be happy to advise you. So if you're in the market for a new hot water unit, be sure to give us a call. We'll be more than happy to help you find the perfect system for your home.
Below are the hot water system and water heater brands we work with:
ZIP

Stiebel Eltron

Aquamax

Kelvinator

Conergy

Edwards

Apricus

Quantum
How To Get The Most From Your Hot Water Heater
A new water heater is a significant investment, so it's important to take steps to prolong its lifespan. Although most water heaters come with a warranty, it's still important to budget for the potential unexpected repair or replacement costs –you want to make sure that you get the longest amount of life out of the system.
Below are some recommended hints and tips we suggest that will ensure the maximum life of the system and its related components are achieved:
Avoid excessive water pressure to the system
Today most manufacturers will suggest no more than 800kpa of mains pressure be delivered to the system. There are some exceptions to this, with Stiebel Eltron only allowing a maximum of 500kpa to some of their systems.
The way in which this is achieved is by using a pressure reduction valve. These can be installed either directly before the cold water enters the hot water services or near the water meter for the property, ensuring all fixtures are protected from high water pressure.
Mains pressure storage vessels usually have two blow-off valves installed. One is located on the cold inlet side of the service, and the other is on the tank at the top near the hot water outlet. These need to release pressure at regular intervals of the hot water services life to ensure they remain active to the manufacturer's specifications and prevent the vessel from bursting due to excessive pressure. It is a task that is often overlooked but still a crucial task that needs attending.
Replacement of sacrificial anodes.
Probably one of the most neglected procedures undertaken by property owners is the replacement of the sacrificial anode. Adelaide is known for its hard water. Therefore, the sacrificial anodes inside mains pressure tanks have a pretty tough life and should be replaced every three to four years to maintain the manufacturers' tank warranty and prolong the system's life after the warranty period has finished. Some manufacturers are now using electronic anodes, which therefore do not need replacing. However, a majority of storage water heaters from Rheem and Rinnai are still using magnesium anodes inside their tanks.
Cleaning of areas around the water heater.
The majority of water heaters are installed down the side of a building or in a plant room that is less trafficked and is out of sight and out of mind. But the downside to this for the hot water system is vegetation can become overgrown and affect the operation of the water heater if it meets it.
Another point to note in relation to vegetation is that small creatures like to live in it and can make there way into a water heater as the attraction of the warmth appeals. It is not unusual for us to receive a service call for no hot water and find a fried gecko, spider, or wasp stuck inside the operating components of the water heater. Depending on where the offending culprit has entered, it can cause significant damage to the electronic components of a water heater and end up costing large amounts of money.
As these items are installed on the roof of buildings, they are susceptible to all kinds of dirt, bird droppings, and general garden materials such as leaves and branches which can land on them. It is important to keep the panels clean to ensure their ability to maintain maximum efficiency and help reduce water and power bills.
Businesses particularly cannot afford to go without hot water, and there are certain components that we know the general life span of and should be replaced to avoid the loose of hot water. For example, the average life of a heating element and thermostat is four to five years. Therefore, replacing these smaller parts on time can significantly help increase the system's life and help avoid the loss of hot water in an unexpected time.
Other parts such as circulating pumps can be tested annually to monitor their output and then programmed for either overhauling or replacement prior to failure.
Above are some of the more common tips and tasks we undertake for our client's hot water systems, ensuring they get the most out of a new hot water service and avoiding an emergency plumbing call out when it is least practical and far more expensive.
Preventative Maintenance
Mayfair Plumbing and Gasfitting specialize in preventative maintenance of hot water systems. It is our attention to detail that keeps clients running smoothly. We take great care in designing programs for each client, regardless if they are large or small businesses with remote locations everywhere around Australia. Your home or business will always be operational all year round.
Records of all work performed and parts installed are kept on our database, which is uploaded to a cloud for ease of access anywhere across the state of South Australia via a mobile device while on the site performing the various tasks.
We strongly believe that proactive is better than reactive. Regular servicing will help to identify any potential problems early on and fix them before they cause serious damage. Additionally, servicing will also ensure that your hot water service is operating efficiently, which can save you money by reducing your energy bills.
We are always looking to take on new clients and would like to discuss with you what our company can do to help you perform without unneeded or unwanted downtime. And because we understand that downtime can be expensive, we offer 24/7 emergency support to help you get back up and running as quickly as possible.
Quality and reliability are very important to us, which is why we offer a wide range of services that are designed to keep your business running smoothly. We understand that every problem is different, so we offer customized plans tailored to your specific needs.
So if you are interested in learning more about what we can do for you, please call us today. We would be happy to discuss our services in more detail and answer any questions you may have.
Service Locations
With multiple vans and plumbers on the road, we can service you at a number of locations around Adelaide and surrounding areas, including the Adelaide Hills. If you want to see specific locations we service, please visit this page, or if you're in the Adelaide Hills, please visit our Crafers plumber page, Aldgate page, and Mt Barker plumber page.
Why Choose Us?
Same day service.

Honest plumbing service.

Great customer service.

Qualified & experienced hot water plumbers.

Locally owned & operated family business.
At Mayfair Plumbing and Gasfitting, we are committed to providing quality, reliable, and affordable service. With over 20 years of experience in the industry, our team of qualified plumbers and gas fitters knows what it takes to get the job done right. We strive to provide first-rate customer service by offering competitive rates and top-notch workmanship.
So if you're looking for expert plumbing and gasfitting in Adelaide, look no further than Mayfair Plumbing and Gasfitting – your trusted choice for quality service at an affordable price!
FAQs
What areas of Adelaide do you work in?
Our hot water plumber Adelaide services cover all city suburbs, including Norwood and Glenelg, and all locations in Adelaide Hills, including our Mt Barker plumber services. Our service vans are stocked with all the parts needed to have your hot water service repaired immediately after they are dispatched to your location.
Why is my hot water service leaking?
The typical operation of a hot water service unit is not to leak. If you notice leaking, it probably means there is a fault, such as a split tank or a broken heat exchanger, which will need replacing ASAP.
Why do I only get warm water?
Warm water only is a sign of either a thermostat or element failing in your electric hot water unit. A diaphragm valve can also fail on older style pilot model heaters as well as newer models with timed heating elements; if this happens, you'll need an experienced licensed plumber who knows how to fix these kinds of problems!
Why won't my pilot light stay on?
No pilot light is mostly caused by a blocked inlet gas jet, no gas to the property, or a faulty thermocouple. All of these tasks are relatively straightforward to fix, and we carry all the right parts to perform a job like this within the hour.
How long should a hot water service last for?
A standard manufacturer's warranty is between 10 to 12 years. Based upon this, we expect that providing no other catastrophic fault occurs, such as an electrical spike, a hot water service unit will last approx. 10 to 12 years. However, it is always important to keep an eye on your hot water service and have it regularly serviced in order to prolong its life.