Have you noticed a damp patch on your wall outside the house or perhaps on the carpet behind the bathroom wall? You could have a broken shower breaching piece in the wall or a ruptured water pipe inside the wall.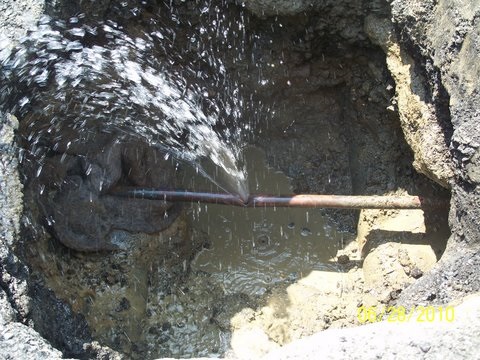 Water Costs
Did you receive your latest water bill and noticed a huge spike in the recent quarters water usage? The chances are that you may have a water leak underground somewhere in your property.
Mayfair Plumbing and Gasfitting have been helping our customers in Adelaide for over 20 years with all types of Water Leak Inspections. Over the years of working with Water Leaks we have developed methods with the latest tools and equipment bought over from the USA to help our customers establish where the Water Leak is coming from and then assisting them with fixing the problem causing minimal disruption to their property and then getting the area back to normal again, whether it be re concreting or gyprocking walls we do it all in house for our customers.
Domestic or Commercial Water Leak Inspections we can handle it all, it could be a suspected leak coming from a Fire Main or even a leak coming from a Hot Water flow and return system, our plumbers are trained and experienced in all fields of plumbing allowing our customers to get there plumbing issues resolved professionally and in a timely manner.
Insurance Polices May Cover Water Damage
Did you know that most home and business insurance policies cover some if not all the investigations and repairs caused through water damage? Water damage can be mains pressure, storm water, cold water, hot water or even sewer leakage.
When we look at what type of things might need to be covered, they can be:
Initial site visits and inspection
Return to site with further investigative equipment (detailed inspections)
New pipe work installations
Testing of new works
Reports both before and after all work has been performed
Repairs to walls, ceilings or external finishes such as pavers and concrete
Painting, rendering and cladding
Camera Inspections For Best Results
When our licensed plumbers attend a water leak investigation we often find that where the water could be presenting such as a stain on a ceiling it is not necessarily where the cause of the problem is directly coming from.
Its during an investigation like this that we may need to open a wall or remove a few bricks to further identify what the issues are. Once a small penetration has been made, we can either look straight into the cavity or insert cameras which will give us a clear insight to what is occurring while maintaining minimal disruptions to the building.
Our specialised CCTV Camera equipment and location devices are available in both small and large camera heads. With this flexibility it allows us to see in the most discreet locations and record all types of images with sound over voice recording. All investigations can be saved to a USB stick either supplied by us or direct by the customer. The full colour monitor and self-levelling heads gives a true impression of what is occurring behind your walls and inside your ceilings.
Making Good
As we have touched on above during a water leak investigation it's not unusual for a hole to be required to be cut in a ceiling, wall of floor. Unfortunately, majority of water leaks we investigate are not just in the front lawn where access would be easy and repairs even easier.
It is always a common question we then get asked "who is now going to come fix this hole once you have repaired the problem?". We have you covered. Certainly, we will make the hole or remove concrete floors, but if you require the further help, we will also provide you all the additional services you might need such as painting, concreting, brick laying, gyprocking, floating floorboard installation and tiling.
Having to go through the process of dealing with a water leak investigation and repair is stressful enough without having all the worries that then go with reinstating all the surfaces as well. All stages of the investigations are documented in writing, photographs and videos ensuring that however a surface was originally installed will now be reinstalled exactly the same way.
Our team of water leak inspection staff at Mayfair Plumbing take great pride in all of our work and it is for this reason our reputation across Adelaide and the Adelaide Hills has grown so fast. Today we currently help many existing customers but also continually take on new clients daily.
Experience Matters
Accurate and professional water leak investigation relies heavily on experience with this comes knowledge (something that cannot be bought and once acquired is priceless – the Mayfair difference). It's the ability to attend a site (each time they are different) and be able to stop and think how could of someone else performed this work when first installed? Its not always thinking how someone might have correctly performed the work but how they may have done it incorrectly eventually leading to a failure. Many companies will promote they can find a leak, but don't have the 20 plus years of experience. Mayfair Plumbing have that experience which allows for accurate leak investigations time and time again with the right result for our clients.
Our proven track record across Adelaide and the Adelaide Hills has secured us many long term commercial and residential customers including numerous insurance companies along with new clients every week. Our ability to attend both during normal working hours and after-hours including weekends and evening appointments gives customers the flexibility to access our services whenever the need arises. If you suspect that there might be water escaping somewhere at your property contact Mayfair Plumbing and Gasfitting the experts in water leak inspections and investigations.