Hydrants and Boosters form an integral part of any wet fire system. These components are typically fed from below ground off the SA Water infrastructure and can also be fed off storage tanks depending on the level of demand that may be required during a fire. These components form the first point of contact for any Fire Protection System on a property. You will notice at the front of any commercial or industrial property there will be a minimum of one booster set up accompanied by a hydrant set up. Depending on the design of the building or land layout you will then notice hydrants spread throughout carparks, warehouse floors and in fire escape stair wells on every level to allow the MFS or CFS to get access in numerous locations or floor levels to fight a fire efficiently.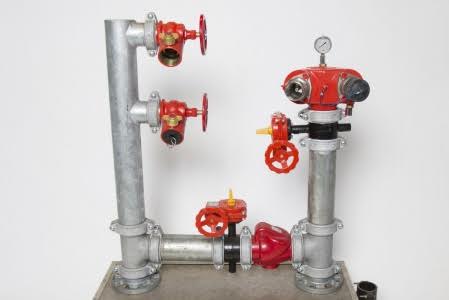 How The Booster System Works
The booster and hydrant system is designed to be connected onto by the Metropolitan Fire Service field unit and then boosted up to higher pressures then that of the water in the street mains. It is crucial that a boosted fire service when installed is tested above this pressure so that if the time ever comes the MFS know the system they are boosting will hold the pressure and allow them to control the fire on site. When installing a boosted fire service in the ground there a some very important key factors that need to be performed to stop these 100mm, 150mm or even 300mm diameter pipes from blowing out of the ground.
1.Only use a material with a wall thickness rated to hold static pressures above that of the boosted pressures.

2.The pipe work must be buried at minimum depths to ensure adequate cover (weight on top of the pipes).

3.At every elbow, tee or bend there must be a concrete anchor to secure the rubber ringed connectors (thrust block).

4.Identification tape must always be used to allow future contractors to ID the buried services.

5.If the pipe system cannot be buried at adequate depths then a metallic offset must be made, this is typically Class A copper and then denso wrapped or covered in green sleave wrapping.
Many plumbing firms across Adelaide and South Australia will steer away from in ground fire installations such as boosted and hydrant installations due to the strict guidelines that must be followed during the planning process, installations periods and commissioning processes. These projects should not be attempted by the inexperienced. Mayfair Plumbing and Gasfitting are one of SA's more experienced contractors when it comes Design and Construct projects along with working closely with consulting firms and architects to ensure a fire system is installed to Australian Standards – AS 2419 and AS 2941.