When it comes to getting the perfect look and design for your new shop fit out it's an exciting time but also a very important time to make sure the final result is exactly what you are looking for. You need to make the right decision about the plumbing contractor which you are going to engage, and that should be a plumber who has over 20 years of experience, Mayfair Plumbing and Gasfitting tick this box for your shop fit out needs and requirements in Adelaide.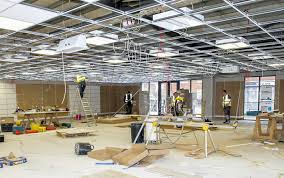 Our Fit Out Services
Cafes, Restaurants, Fast Food venues, Night Clubs, Distribution Centres, Professional Offices, Bakeries, Clothing Stores, Hair Salons, Grocery Stores, Butchers, Dog Grooming Salons, Day Spas, Doctors Consulting rooms, Liquor Stores, Hotels, Department Stores and Fuel Stations are just a few of the many hundreds of shop fitting projects Mayfair Plumbing and Gasfitting have been involved with over our 20 years in the plumbing field.
Shop fit outs can quite often fall victim to tight pressing deadlines where long hours are required and even night shift in order to achieve an opening time for the customer, our plumbers are no stranger to the occasional late night and some weekend work. Mayfair Plumbing and Gasfitting offer in house design services so if you have low documentation or no documentation for your hydraulic services our skilled team of plumbing designers can tailor the right sized drains and pipes to ensure your new shop fit out operates to its maximum capacity during peak periods.
From Munno Para to Noarlunga from Tea Tree Gully to Glenelg our plumbers go anywhere in Adelaide to service our customers with their shop fitting needs. Our projects have been large scale where the contract value for the plumbing can be in excess of $500,000 to minor shop fit outs where the value of the plumbing contract can be $4,000 we can help you with any size of shop fit out. We understand that circumstances change and a quick approach is required to ensure deadlines are met, that's where the benefit of engaging a locally owned and operated plumbing company from Adelaide comes into play, you know that your project is in safe hands every time and the owner is only 30 minutes away from any site in Adelaide.
If we can help you in any way with your next project feel free to contact us and make a time to get one of our plumbing consultants out to your shop fit out and arrange a free no obligation quotation anywhere in Adelaide.