The costs of installing a new water system can be different depending on how big your house is, the type of system you want, and much more. There are many options that may work with whatever budget you have.
So, if you're interested in having a new hot water system installed for your home, it's important to know a little bit about how they work and what you should look for before the installation process. Having these details on hand can help you make a more informed decision before purchasing a new hot water system, saving time and money.
What To Consider When Calculating Water Heater Replacement Cost
Household Needs
When searching for a new hot water heater, it's important to keep in mind what your family needs.
Each household differs from others as we all have different lifestyles and schedules. All this should be considered when determining the type or size of the system that will work for your home's hot water usage.
Here are a few questions that can help determine your installation costs.
How much hot water do you need available at any given time? Is the system energy efficient? How much hot water is your household going to need?How many individuals or families will have hot showers and use hot water for dishes in the kitchen?
These are just a few things you should consider before deciding on hot water heater replacement cost.
Transport Costs
Transport costs are not usually included in hot water heater replacement initial cost.
The weight of your hot water system usually affects the end price. Some systems can weigh as little as 15 kg, which can easily be carried by one person and fit into your car; others are more than 150kg and require two or more experienced installers to bring them safely into place.
Installation Cost
Installation costs vary considerably depending on the complexity of the work. For the most part, a hot water system installation in the same place is relatively inexpensive, in the range of $450 to $850.
If additional valves or systems require upgrades or if electrical or plumbing systems have to be upgraded then the cost would be more. of around $1500 to $3000.
The switch from electricity to gas requires additional work and costs. For instance, changing from a gas water heater to an electric one will require an additional $1500-$3000 and a fair share of work due to plumbing and electrical needs that may arise.
Accessibility Of The Site
How easy is it to access the preferred location for the heater system installation? High roofs and high wall installations can require extra labor and equipment, and in some cases, cranes may even be needed to lift a system into place. This adds more costs to the final bill.
Government Rebates & incentives.
In an effort to promote eco-friendly solutions and lower greenhouse gas emissions, the Australian government provides rebates and incentives to homeowners, particularly those installing solar hot water heating systems. These incentives can sometimes reduce the costs by $600 to $1200, depending on your selected system.
Disposal Costs
When replacing an existing hot water system, you'll need to get rid of the old one safely as well. In some cases, the company doing the installation for you will include the disposal service with your purchase. However, some don't, and you might be required to pay for this service.
In general, the removal and disposal of small and average size units will cost you about $60- $100.
Ongoing Running Costs
While not included in the initial hot water system installation price quote, the ongoing operating costs can seriously add up over time, depending on the type of system that you are running.
The table below, courtesy of the Victorian government, will give you a general sense of what to expect:
Type of System Typical Annual Operating Cost
Storage: range from $550 (for a 25L tank) to $1900 (400L tank)
Instant: range from $960 – $1400
Gas: If you are close or connected to natural gas or LPG gas, you should consider getting a hot water gas installation.
Storage: Price ranges from $1450 (for a 135 L tank ) to $1850 (160 L tank)
Instant: Price ranges from $950 to $1800
Solar $65 $365
Heat Pump $160 – $385
Hot Water Unit Size & Type
The price of a new hot water system range from $450 to $7,000 or more depending on the type of hot water unit you choose and any extra equipment – such as gas lines – that are required when installing a hot water heater.
Types Of Hot Waters Systems (and their prices)
Knowing the type of water heater system that you want to install in your house will be one of the biggest factors when it comes to determining exactly how much does it cost for a new hot water system.
There are many different types of hot water systems, each having its own set of benefits and disadvantages; some systems may last longer than others.
Learning about these choices ahead of time makes it easier to pick one that will work well with your home and offer you the results that you need without breaking the bank. Hot water systems are usually available in two options: Storage tank-type & Instant.
– Storage Tanks: The water is heated, stored in a tank (available in various sizes), and kept hot & ready at all times.
– Instant: Instant water heaters provide a constant supply of hot water to your home by heating it directly on demand.
Electric Hot Water System
Electric hot water systems are the most common hot water systems in Australia today and one of the least expensive besides solar hot water systems. They rely on an electric element to heat up the water in the storage tank, similar to how the electric element works in an electric kettle.
Electric water systems are available in two options: Storage Type & Instant.
– Storage: Price ranges from $450 (for a 25 L tank) to $1900 (400 L tank)
– Instant: Price ranges from $660 – $1400.
Gas Hot Water System
Gas hot water systems are not as common in Australia as electric tanks. However, the expansion of the natural gas grid across Australia, the innovation of continuous flow system electronic ignitions, and features like touchpad temperature control have made more people embrace gas water heaters.
Gas hot water systems have a high recovery rate or rapid heating. They can heat water twice as fast and almost twice as much as electric systems. This makes them a great option for large families because of their high recovery rate or rapid heating.
If you are close or connected to natural gas or LPG gas, you should consider getting a hot water gas installation.
– Storage Type: Price ranges from $850 (for a 135 L tank ) to $1700 (360 L tank)
– Instant Type: Price ranges from $750 to $1800
Solar Hot Heater Systems.
Living in Australia, it only makes sense to harness the clean, inexhaustible, and free energy supply from the sun. A solar hot water system is highly efficient and helps reduce carbon footprint while saving you money that could have otherwise been spent on ridiculous electricity bills.
Although not necessary, you can complement your solar system with an electric or gas booster to ensure there's always hot water for those not-so-sunny days.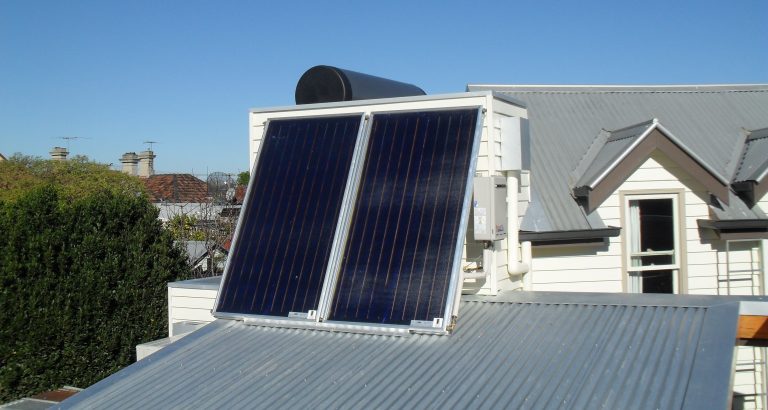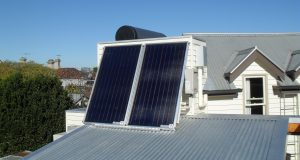 Solar systems come in a few main varieties.
The most popular option is the roof-mounted model with an electric boost. The price of a new unit installation costs anywhere from $3800 to $5400 or more.
Other options include:
– Split System (Electric) – The tank is placed on the ground if your roof can't support its weight. Price range$3900 to $6500.
– Split System (Gas) – Works just the electric split system but uses gas instead of electricity. The price of gas boosted split system ranges between $4900 and$7000.
Heat Pump Water Heater.
A heat pump water heater is a hot water system that uses electricity to run a heat pump in order to heat your hot water. Rather than directly generating heat to the water like the other hot water systems, heat pumps work like a refrigerator but in reverse.
Heat pump units transfer the coldness from one area of the environment into hotness, making it a cost-efficient and eco-friendly hot water solution for households. The electric energy is converted into thermal energy, which then heats the water.
A heat pump water heater is more energy-efficient & draws less electric power. It uses 70% less of the energy consumed by a conventional electric hot water system.
What's the best type of hot water system?
Being in Australia, you are guaranteed to receive plenty of sunlight.
So, if you're connected to the main gas, then the most ideal system for you is a solar storage hot water system with gas boosters. If your home doesn't get much sunlight, the next best thing regarding running costs would likely be a continuous flow gas system.
Most people usually tend to opt for electric continuous flow models (instant hot water heaters) since they have a lower upfront cost. However, they may not be the best option. This is because they have a high energy consumption and are often considered the most expensive option.
With multiple systems to choose from, the ultimate best hot water systems comes down to personal preferences. Keep in mind that it doesn't start and end with the upfront costs. Long-term energy savings are also worth considering.
If you are looking for a new system with the aim of lowering your utility bills in the long run, you'll most likely have to spend more upfront for a hot water system. If this is the case, it could be worth considering how much power and water will need in the long run before making your decision.
Best Hot Water System Installation Services In Adelaide.
Here at Mayfair Plumbing & Gas Fitting, we work with residential and commercial clients in Adelaide, assisting them with their hot water system needs.
We can answer all of your questions to help you decide on the best water heater to meet your needs. Once you have made your selection, we'll get everything installed and ensure it is working properly. Our plumbers, gas fitters, and technicians are ready to come and install your new hot water system.
We offer same-day hot water replacement services throughout Adelaide.
Make the most informed decision.
Get in touch today to discuss your options and find out which hot water system is right for you.
Common Hot Water Systems FAQ's
Gas or electric? Which water heater is better?
This is definitely a personal choice, but it's important to consider any extra costs associated with your new hot water system. For example, if you want to install a gas system to heat up your water, you'll need a gas line installed as well.
Before installing a new hot water system yourself, make sure you know what type will work best for your home so that you can avoid paying more than necessary for additional equipment or installation help.
We are experts in hot water systems. If you want help determining what's best for you, don't hesitate to reach out!
How much do hot water systems cost in Australia?
The average cost of replacing a hot water system in Australia is between $450 and $850.
The more lpm your hot water system produces, the more hot water it will be able to provide for your family at once. Larger hot water systems can also keep up with increased demand as families grow through having children or adding them.
How long before you need to replace your water heater again?
If you don't want to keep having to pay out money, then you're going to want to find out how long hot water systems generally last longer and what the average hot water system costs. There is a general estimate that hot water systems can last anywhere from 5-12 years before needing replacement.
If your hot water heater has been in place for about 6 – 7 years, this is a good time to get it checked out and replaced; otherwise, you'll find yourself without a working hot water system in winter.
What type of hot water system do you need?
In Australia, hot water systems are rated according to the volume of hot water they can produce over a given amount of time.
The rating is expressed in liters per minute (lpm).
The more lpm your hot water system produces, the more hot water it will be able to provide for your family at once. Larger hot water systems can also keep up with increased demand as families grow through having children or adding them.
12 lpm – 1 person
16 lpm – 2 people
20 lpm – 3 people
26 lpm – 4 people