Bore hole pumps are commonly used across Adelaide and the Adelaide Hills of South Australia. In Adelaide many residents are fortunate enough to have access to some form of aquifer below ground and it in turn provides them with bore water below their land. A bore pump is designed to deliver water from below ground level to above ground applications.
A bore pump can be located above or below ground. When the pump is installed above ground there will be a suction pipe placed into the bore to enable the pump to deliver the water for its application. When the pump is installed at the bottom of the bore well it will
require a strong chain attached to it so when maintenance is required it can be bought up to the surface and worked on.
A pressure gauge installed above ground on the pumping line is a good idea to show the user how much pressure the pump is delivering. The pressure gauge will also show when there is a problem below ground. A drop-in pressure is the early sign that maintenance should be programmed. At Mayfair Plumbing we help many of our clients with half yearly maintenance test and checks minimising down times due to complete failure.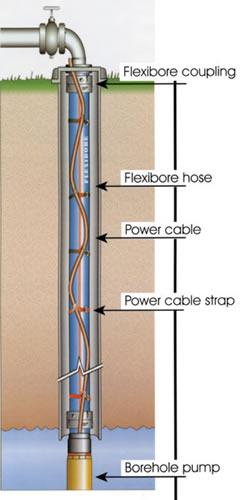 Uses and Locations
Majority of the applications the water from a bore is used for irrigating purposes such as large gardens in suburbs of Unley Park and Medindie and farms and wineries in Lenswood and McLaren Vale to name a few places. The reason that water from bores is mainly used
for irrigating and watering livestock is that the quality is not always that good for human consumption without large amounts of filtration and treating prior to human consumption.
When the cost of water filtration is added to the equation it makes the exercise significantly higher in costs. Some forms of small filtration can be done at small costs will make the water useable for the above mentioned tasks.
Brands of Bore Water Pumps
There are many manufacturers of pumps around the world today and in Australia we have access to many of these. In Adelaide there a few more common brands we come across during our line of work repairing and installing bore pumps and these are:
Grundfos
Lowara
Lorentz
Wilo
Onga
Javelin
Being familiar with all the different brands and styles enables our pump specialists to quickly diagnose a fault and quickly implement the right course of action to have the pump repaired or a replacement pump by supplied.
The brands which we have listed above are manufacturers which supply quality products to the plumbing market. Like many products there are cheap imitations, but you get what you pay for and many of our clients rely heavily on the operation of their bore pumps, so the quality of the product is high on the list of priorities.
Common faults
Fault finding bore pumps becomes faster with more experience over time. At Mayfair Plumbing we have been working within the pump industry now for 20 plus years and have seen a variety of different situations. Our experience is not only derived from Australia, some of our staff have worked across the globe in locations such as Canada in some of the world's largest mine sites where large-scale pump systems are used deliver water.
Below are a few of the common faults we come across in the Adelaide Hills and other suburbs of Adelaide.
Iron build up:
Over time Iron deposits build up inside the bore and a its related components. This can put strain on the pumps and other parts inside the bore. With a simple biodegradable liquid solution wash it flushes out the build-up and returns the pump and its parts back to normal
again. We recommend cleaning of bores every 12 months.
No water coming from the pump:
When a valve is turned on and no water or very little water comes out there is typically a fault related to the pump itself. It can be due to no power which may mean that an electrical short has caused the safety switch at the main distribution board to trip out
protecting everyone from electrocution. This will require the services of an experienced pump repair technician.
Age:
A bore pump is designed to perform its anticipated function, but unfortunately over time parts wear out and the pump will need to be replaced. Given our reputation is based upon the pump we recommend we try to always suggest brands such as: Grundfos, Javelin,
Davey, Lorentz, Onga and Wilo.
The purchase of a new pump can be expensive and then there is the labour involved so getting the longest life out of this equipment is a preferred outcome.
Bore running dry:
Depending on the location of your bore across South Australia and the aquifer it draws from it can occasionally run dry. We have clients in Glenelg and Unley where there bore does run dry and then takes a variable length of time to fill up enough to enable use of this water
again. The depth of the aquifer which the pump draws from will have a direct effect on how fast the well will replenish.
Inadequately sized:
Water from a bore comes from below ground. Depending on the depth of the aquifer it will determine how much suction power the pump will need to get the liquid from below ground to above ground and then distribute it to the intended fixture. An undersized pump will be under constant strain and work harder than intended and shorten the life of the pump.
Fast Bore Pump Turn Arounds
Having worked with pumps now for 20 plus years we understand that a bore pump forms a crucial part of many property's operations. Not being able to irrigate for a week could spell disaster for vineyards and other produce markets. With this knowledge we now provide an emergency all hour's service and can get majority of pump brands and models installed the same day.
You can get in contact with after-hours service on the same number as our daytime telephone number which is 0429361819.
All of our service vehicles carry mobile eftpos facilities for ease of payment once a job has been completed.