As the name suggests Dux choose it for that very same reason, they wanted to create a product which reflected the meaning of their name top in class.
Dux Company History
It was back in 1915 when the Middleton family decided upon this name for their new range of hot water heaters which would be initially fuelled by electricity. The first type of hot water system which Dux produced was an electric heating system for showers and baths.
It was then some 25 years later down the track in 1940 that Dux created there first instantaneous water heater, this was early technology using a ceramic style system to heat the water. It was then another 20 years later in 1960, 45 years after Dux opened the business that they added a range of copper tanks to their product list which would be roof mounted.
In 1964 Dux brought their first mains pressure hot water service to the market, this was to meet an increasing demand for high rise housing around dux systems in Adelaide Australia.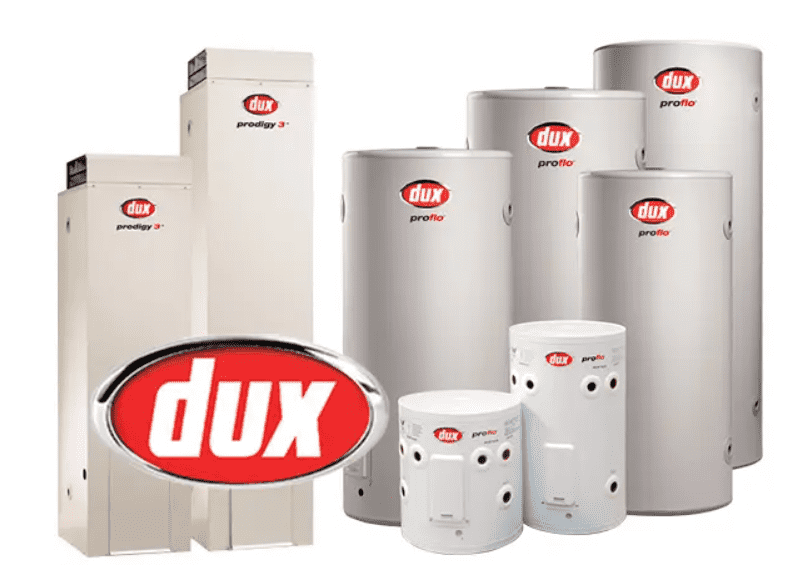 Main Water Pressure Hot Water Systems
Back when Dux first started the manufacturing of their mains water pressure hot water systems the construction of the tank was galvanised. After this they moved into manufacturing of the tanks from a bronze and copper alloy material. Dux then replaced these hot water systems with steel tanks which had a copper lining inside of them and then finally hot water tanks which had a glazed vitreous enamel lining inside of them.
You will find a huge range of the Dux products on the Adelaide hot water market today, with everything from solar, electric and gas fuelled units. What is particularly popular in the hot water market for Dux is the in wall mounted Prodigy 5 units.
Many houses which were built in Adelaide approximately 15 to 20 years ago where struggling for trafficable space down the side of their properties due to shrinking has block sizes and building restrictions. The new home developers didn't want to spend the money on large gas supply pipes for instantaneous hot water systems so they opted for a slow burn storage hot water service which still used gas but at a slower rate so the pipe sizing could be smaller. Space was created by mounting these units slightly off the ground and half in half out of the wall.
Today Dux have their latest product the Prodigy 5 unit which is now replacing many 3-star energy rated hot water services throughout Adelaide, still allowing access down the sides of homes and giving a much more energy efficient hot water system saving money and the environment.
It is great news for everyone that Dux remain Australian owned and operated allowing Australians to enjoy the benefits of locally owned and manufactured products.