A bore pump is an environmentally friendly way of delivering water to a domestic or commercial property from the underground water table on that property. The depth of a bore in metro Adelaide varies from 6 to 20 metres in locations such as Glenelg and Largs Bay up to 80 metres in locations such as Scott Creek and Mount Barker in the Adelaide Hills of South Australia. The depth and locations of bores across South Australia can also be found at the website called Water Connect a South Australian government website.
Different Pumps For Various Depths
A bore which is 6 metres in depth will typically have a pump which sits above ground, and it sucks the water from the bore. A common pump which we install for these situations is the Grundfos JP 4-54 PM1. This pump has a 25mm female thread for suction and a 25mm male outlet, its capable of delivering 4 m3/h and therefore it is a great pump for domestic use such as watering of grass and garden beds. With these Jet style pumps it is important to ensure the suction line is air and watertight.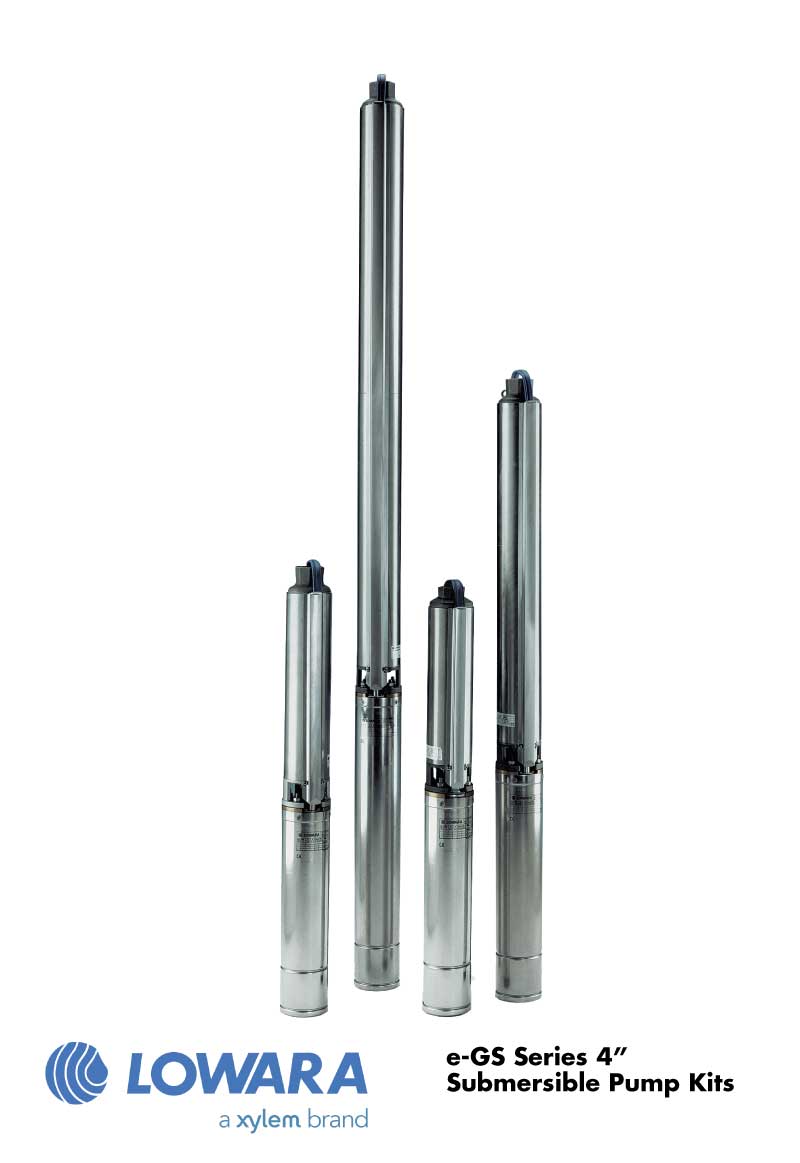 The non-return valve should always maintain a good seal to prevent air locks.
When we consider the deep well bore pumps a common brand we supply and install for our customers in the Adelaide Hills is Lowara. The Lowara e-GS is a 4inch torpedo style pump built predominantly of stainless steel and has the capabilities of delivering water at 22 m3/h of a head at 310m.
A pump such as this can also be accompanied by a Kelco Intelligent Pump Controller which then offers the end user flexibility in the way they want to use there bore pump. Another great addition to this pump installation is lay flat hose.
This hose comes with proprietary fittings designed to enable air and watertight connections at either end of the hose connection eliminating the chances of an air leak and surging. Another fantastic addition to the lay flat hose is the eyelets attached to the hose at regular intervals to allow for easy installation of the electrical power cable from the Kelco Intelligent Controller to the bore pump.
Preventing A Pump From Surging
When a bore pump is installed by a qualified pump technician such as Mayfair Plumbing across Adelaide there are a few crucial criteria which will be adhered to and maintained throughout the life of a pump with scheduled maintenance inspections, and they are as follows:
Watertight connections between the pump and the controller above ground
Airtight connections between the pump and the controller above ground
The installation of a free-flowing non-return valve
Correctly sized suction line
Water constantly in the bore hole
Ensuring the iron level remains low in the bore hole
Keeping the impeller free from obstructions
Bore run dry protection through using a controller such as the Kelco Intelligent Controller
If you are experiencing a fault with your bore pump like what has been described in this article, please contact the local experts in everything pumps in South Australia and contact Mayfair Plumbing today on 0429361819.