Grundfos is a trusted name in the pump industry, and its products are backed by a solid warranty and excellent customer service.0
Grundfos is one of the world's leading manufacturers of pumps and circulatory systems. Their products are used widely, from domestic applications to heavy industry and agriculture. And they're known for their quality, durability, and innovative design.
But are Grundfos water pumps any good? In this comprehensive review, we'll take a close look at the brand and the company, its history, and some of their best products in the market today.
What Makes Grundfos the Best?
Grundfos is a Danish company that has been making pumps since the 1940s. They are one of the largest manufacturers of pumps globally. They employ over 19,000 people across the world.
They are dedicated to providing innovative, efficient, and reliable pumping solutions to meet the needs of their customers. They offer a wide range of products for various applications, from domestic use to industrial and commercial settings. Grundfos also manufactures a line of high-efficiency water booster pumps.
They also offer the following products:
Heating, Ventilation, and Air Conditioning (HVAC)

Water distribution

Desalination, and more!
The company is known for its innovative products and has won many awards for its design, including the World Pump Award. Grundfos has a strong commitment to research and development and is always looking for ways to improve its products and the efficiency of its manufacturing processes.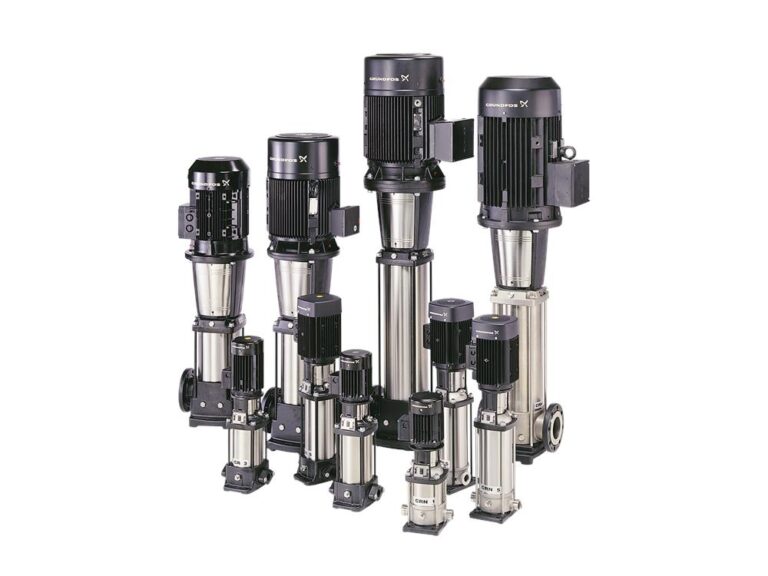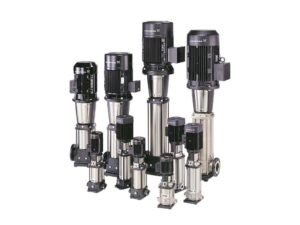 "…committed to reducing the environmental impact through energy-efficient solutions."
In addition to its wide range of products and services, Grundfos is also committed to sustainability and minimizing its environmental impact. The company has a long-term goal of becoming completely carbon-neutral by reducing CO2 emissions and energy consumption. It is already well on its way, with nearly half of its electricity coming from renewable sources.
Grundfos recognizes that its responsibility as a business goes beyond meeting its financial obligations to shareholders. They are also committed to reducing their environmental impact and promoting sustainable development. This requires a holistic approach that considers the impacts of their products and services throughout their lifecycle.
Grundfos' green buildings program includes energy efficiency measures such as solar panels, which help reduce the company's carbon footprint. In addition, the program promotes the use of electric vehicles (EVs) and renewables programs.
Grundfos Domestic Water Pressure Boosting Pumps
If you are looking to boost your water pressure, Grundfos has a range of domestic water pumps that can help. If you have low water pressure in your home, it can be frustrating and a significant inconvenience.
Most of the time, low water pressure could signify that your plumbing has issues.
Read more about the common causes and fixes for in-house low water pressure here.
Other issues can be:
peak time use, especially in the mornings and evening when most households shower and cook.

Running multiple taps at the same time.

low water pressure from the mains

boosting water pressure from a well or an underground water tank
That said, here are different types of Grundfos domestic household pumps to consider for your home.
Variable Speed Household Pumps
This range of household pumps is easy to use, robust, and reliable. They are designed to adjust performance on demand to provide more pressure to all the faucets. The main advantage of having a variable speed drive is it gives you control to add or reduce water pressure and could help save energy in some cases. The pump will only use the power it needs to maintain the set pressure in your home, making it more efficient.
They are ideal for pumping water from both roof tanks and underground sources. They also feature a water-cooled engine for a more quiet operation.
Variable-speed pumps let you control the speed, whether low or high or anywhere in between.
Energy Efficient – Reduced power consumption helps conserve energy and reduce energy bills.

Intuitive LCD control monitor

Dry run protection, anti-cycling alarm & auto reset functions

Three steps easy installation process
Self Priming Multistage Booster Pumps
The Grundfos booster self-priming water pump is a versatile and reliable device that is perfect for a wide range of domestic and light industrial applications.
The pump itself is made from robust materials. It features a multistage centrifugal design, while the pressure manager controller ensures that the pump automatically starts and stops as needed and also protects the pump from dry running.
This makes the Grundfos booster self-priming water pump ideal for anyone looking for an easy-to-use and reliable water pump that can be used with above rainwater tanks or ground tanks.
8 meters suction lift

Self-priming capabilities of up to 4 meters

High quality, corrosion-resistant stainless steel

LED display indicators for power & alarm indication

Plug & play, easy Installation

Integrated non-return valve for backflow prevention
Perfect solution if you are struggling with insufficient mains pressure.
Basicline Self Priming Jet Pumps
The Grundfos Basicline JPC is a small but powerful pump designed for a variety of domestic and garden use cases. The JPC self-priming single-stage jet pump is perfect for collecting rainwater from your rainwater tank. The Basic line jet pumps are fitted with a PM1 pressure manager controller that regulates the pressure in the system, ensuring that the pump doesn't overwork itself. The JPC is also available with a pressure tank and pressure switch, which helps protect the pump from damage caused by excessive pressure. Other features include:
A 7 meters suction lift.

Dry run protection & cycling alarm.

Stable operation even when the water has air bubbles and small sandy impurities.

LED display indicators for power & alarm indication
This range of pumps is compact, efficient, and easy to install, making them ideal for anyone looking for a reliable way to collect and store rainwater.
Basic Multistage Booster Pumps
The Basic Multistage Booster Pumps is a great choice for those needing a reliable and affordable pump for domestic or light industrial use. These models consist of a multistage cast iron pump that features stainless internals and a PM1 pressure manager controller designed to allow the pump to start and stop automatically as per the water demand. It also helps protect the pump from dry running.
Quick installation. Connect the inlet and outlet.

Adjustable pressure control settings

Built from high quality, corrosion-resistant stainless steel

Intuitive LCD interface.

Thermal overload protection & dry run protection.

Backflow prevention
Where to install a booster pump
The best place to install a booster pump is on the main water line right before where the water enters the house. This will ensure that all of the water in the house is being pressurized and not just a specific faucet.
Tips for installing a booster pump
When installing a booster, make sure to create a bypass in case the pump malfunctions. This will allow you to still have water flow into the home if the pump fails or needs troubleshooting.

Before fixing the pump, make sure there are no leaks that could cause an extremely low flow rate. This helps prevent the pump from unnecessarily starting and stopping in rapid succession, thus prolonging the pump's life.

Before connecting the pump and turning it on, reconnect the water supply until there is a steady flow on the faucets before shutting the taps off. This helps to prime the pump for the first time quickly.

Once you have turned the pump on, check all of the faucets in your home to ensure that they are receiving an adequate flow of water. If not, then there may be a problem with either the installation, a leak on the mains, or the pump itself, and you might need to consult a professional.
5 Best Grundfos Pumps Reviews
Grundfos CMB-SP3-28 Self Priming Multistage Pump (Flow 80 LPM)
If you're looking for a reliable and compact booster pump, the Grundfos CM Booster Self Priming is the perfect solution. This robust multistage centrifugal pump is designed for domestic and light industrial use and comes with a generator-friendly PM pressure manager controller. The pressure manager allows the pump to start and stop automatically according to demand and also protects the pump from dry running.
The CM Booster Self Priming can be used with above or below-ground water sources, making it a versatile and reliable choice. With its self-priming function, it's easy to set up and use, so you can start enjoying increased water pressure in no time.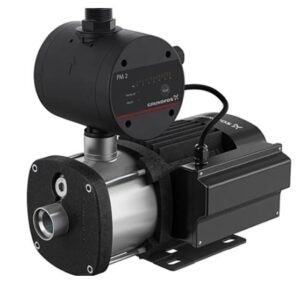 Recommended Applications:
Boosting water pressure from the mains

Increasing water pressure to the faucets

Boosting water pressure from above or groundwater sources
Grundfos scala2 booster pump
The Grundfos SCALA2 booster pump is an intelligent and user-friendly pump that is perfect for both outdoor and indoor use. The pump's built-in sensor constantly measures the pressure and immediately boosts the pressure if it drops, making it an excellent choice for any home or business. The pump's control panel allows you to adjust the desired speed and pressure according to your needs, making it a versatile and reliable pump that you can count on.
All-in-one option for all domestic boosting needs.

Compact design. It includes a sensor drive, tank, pump, motor, and non-return valve in one unit.

Quiet operation. not so noisy

Easy operation

Intelligent pump control
Grundfos scala2 booster pump is perfect for a small family or about 2-4 bedrooms. With its durable build and relatively quiet performance, you'll love the convenience of this top-of-the-line pump.
Grundfos UP15-42F SuperBrute Recirculating Pump
The Grundfos UP15-42F pump is your best choice for reliable and efficient operation in closed-loop heating systems. This pump features a sturdy cast iron housing, making it perfect for radiant heating, baseboards, fan coils, etc. With its wet-rotor design, this pump can circulate water efficiently and effectively through your system, providing reliable performance daily.
The pump is built for domestic heating, cooling, and air-conditioning systems and is powerful enough for commercial heating and commercial water recirculation.
Its popularity is mainly because it doesn't need to be lubricated as often as other pumps. After all, the liquid is circulated through the system and serves as a lubricant.
Grundfos JPC 3-42 Self-Priming Centrifugal Pump
The Grundfos JPC 3-42 self-priming centrifugal jet pump is the perfect solution for a variety of water supply and transfer applications. With a built-in ejector and guide vanes, the JPC 3-42 offers optimum self-priming properties, making it ideal for domestic systems, garden irrigation, and car washing. The JPC 3-42 features durable construction that is designed to last, making it a great choice for any single- or two-family households, summer houses, and weekend cottages.
It is easy to use and comes with the Grundfos PM1 Controller for added convenience. The pump is made of lightweight and corrosion-resistant materials and includes dry running protection and a cycling alarm for added safety. It can handle liquids at temperatures of up to 35 °C and ambient temperatures of up to 40 °C. The JPC 3-42 is an excellent choice for those who need a reliable and easy-to-use centrifugal pump.
Grundfos Range Of Shower Pumps
One of the most essential features of Grundfos shower pumps is their ability to boost water pressure to your shower head.
This means that you can enjoy a powerful shower even if your water pressure from the mains is low. Additionally, Grundfos shower pumps are designed to be extremely quiet. They feature a low noise design and anti-vibration, so you won't have to worry about them disrupting your shower experience. Finally, they are easy to install and come with a wide range of accessories, making them an excellent choice for anyone looking for a high-quality shower pump.
Is Grundfos A good pump?
When it comes to finding a dependable and high-quality pump, Grundfos is usually at the top of people's list –and for a good reason.
All of their pumps are made from only the best materials and components. They go above and beyond to ensure that each element is certified to meet world standards for hygiene.
As a result, you can be confident that a Grundfos pump will provide lasting performance and peace of mind. Plus, their customer service is excellent, so you can rest assured that they will sort you out if any problems arise. In short, there's no doubt that Grundfos is a perfect choice when it comes to pumps.
Grundfos Pump Review; FAQ's
How does the Grundfos pump achieve the perfect water pressure?
Most Grundfos pumps, like the Grundfos scala2, use a built-in sensor gauge to detect when the current water pressure drops below your pre-set parameters. The pump will automatically start up to help boost the water pressure when this happens. This makes it easy to maintain optimal water pressure at all times.
How long should my Grundfos pump last?
As with any appliance, how long your Grundfos pump lasts will depend on a number of factors, including proper installation and maintenance. Grundfos pumps are designed for durability and typically last at least ten years with little to no repair. Your Grundfos water pump can provide you with more years of trouble-free service with proper care.
Where are Grundfos Pumps made?
Grundfos Pumps are manufactured in Denmark, with additional manufacturing and assembly facilities in Hungary, the USA, UK, Italy, France, Germany, Switzerland, Brazil, Finland, Taiwan and China. The company also operates a network of sales and marketing subsidiaries, with more than 70 subsidiaries in over 40 countries.
Are Grundfos shower pumps any good?
Yes. Grundfos shower pumps are some of the best on the market. They offer a wide range of features and benefits that make them ideal for use in any home. A good example is the Grundfos STR2-2.0 CN Twin Impeller pump which is specially designed to provide quality performance. It offers a smooth, quiet and reliable operation, and it is also very affordable.
Bottom Line
Grundfos is a well-known and trusted name in the pump industry, and its products are backed by a solid warranty and excellent customer service. The company offers a wide range of pumps for different applications, so you're sure to find one that meets your needs. Whether you're looking for a shower pump or something more heavy-duty, Grundfos has you covered. So if you're in the market for a new pump, Grundfos is definitely worth considering.
Have you ever used a Grundfos water pump before? What was your experience like? Let us know in the comments below! And be sure to check out our news section here for more information on plumbing, hot water systems, and more!
Also check out our Davey pump review.