The Bianco company has been making quality, durable water products for almost two decades. The Bianco water pumps are no exception. Their pumps are among the best for supplying water for domestic, industrial, and agricultural use on the market.
They also offer a wide range of products, from pump accessories, rainwater tanks, connection kits, and hot water boosters. They have an excellent reputation for quality and customer service, and their prices are relatively competitive.
Some of their modern water solutions designs include high-quality bearings, stainless steel shafts, an in-built check valve to prevent water backflow, and dry protection for reliable operation.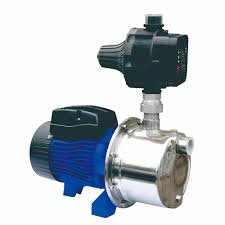 Who makes Bianco pumps?
The Bianco Pumpz brand is a product of White International, one of Australia's largest trade and industrial distributors. They are also partnered with major water pumps and accessories-related brands, which include: Bianco iCON & iSolar, DAB, ClayTech, Zenit, Rainsaver, Reflex, and many more.
What are the different types of Bianco pumps?
Bianco pumpz offers many different types of pumps, including:
Jet Pump & Horizontal Multistage Pressure Systems
The Bianco range of jet pumps and horizontal multistage water pressure systems are ideal for both domestic and commercial water supply applications. Their corrosion-resistant stainless steel construction ensures long-term durability, while their quiet and efficient operation makes them a perfect choice for modern use and application
With AS/NZ 2020 approval for drinking water, they are an excellent choice for those who require a robust and reliable water pressure system for their home. Some of their main features include;
Fully electronic pump controller for automatic pump starting, stopping, and restart after power loss and water loss.

reliable suction lift that helps attain max head flow.

high quality, corrosion-resistant stainless steel build.

greater versatility for supplying water to domestic installations.

reliable self-priming ability
Rainwater harvesting pumps
The latest in water-saving technology, the Bianco rain saver pressure systems, are designed to be efficient and effective. With pumps that can operate up 800 kPa or even lower on demand when needed, Bianco rainwater harvesting systems will help you pump more water to your rainwater tank while still maintaining minimal usage of your local resources!
Fire Pumps
Bianco's high-pressure portable pumps are the ideal solution for fire prevention in properties and farms where power is not readily available. The brand's new next-generation pumps are powered by Briggs & Stratton. These portable engine pumps can also be used in farm crop spray applications.
Bianco pool pumps
Bianco Pool Pumps are the perfect way to keep your pool clean and refreshing. They feature automatic electronic pump control and intuitive interfaces, making it easy to manage water levels through all seasons.
Bianco Pumpz also offers a wide range of accessories for their pumps, such as connection kits, float switches, pressure switches, and more.
What are the most popular Bianco water pumps?
The most popular Bianco water pumps are their submersible pumps. These pumps are designed with excellent suction capacity and are ideal for a wide range of applications, including pools, spas, aquariums, fountains, and more. They also offer a wide range of submersible pumps for different needs, such as drainage, sewage, sludge, and more.
Are Bianco Pumps Any Good?
Yes. Bianco pumps are well-made and durable, and they can be used for a variety of applications. They're easy to set up and operate and capable of delivering a high volume of water. Bianco pumps are also relatively quiet, making them ideal for use in residential areas. In addition, Bianco pumps are backed by a good warranty, so you can be confident that you're getting a quality product.
Bottom Line
Bianco is one of Australia's leading suppliers of water pumps, and their products are prized for their versatility. They come in various styles and sizes, making them perfect for a wide range of domestic installations. Bianco water pumps offer many features that make them an excellent choice among other brands.
"we've carefully handpicked the top Bianco water pumps…"
Mayfair Plumbing is proud to offer a range of water pressure systems from this industry-leading brand.
Our experts have carefully handpicked these systems to provide you with the best solutions. The brand offers a variety of energy-efficient options that are perfect for today's requirements.
At Mayfair Plumbing, we are committed to providing our customers with the best possible products and services. Whether you need a Bianco pump for a small home or a large commercial property, we have a solution that will meet your needs. And because we only offer high-quality products, you can be confident that your new system will provide years of trouble-free operation.
Contact us today to learn more about our Bianco Pumpz residential water pressure pump systems selection.