One of the biggest success stories in the engine industry dates back to 1953, when honda started distributing its first 100 million power products. In 1973, Honda ventured into Outboards, Generators, and Tillers for the American market. Two years later, they started producing Honda Water Pumps as part of their product lineup.
Honda has 11 manufacturing sites across the globe, while testing, research, and development take place in North Carolina and Japan. The headquarters of Honda Power Equipment products are in Alpharetta, GA.
Honda gives consumers a broad selection of water pumps for different uses, and the pumps come with several specific designations as each type has a preferred environment. Let's look at everything you need to know about Honda water pumps.
Why Choose Honda Water Pumps?
Unmatched performance
Honda doesn't cut corners on features that improve performance, designing the water pumps with durable silicon carbide seals, rigidly mounted volutes, cast iron impellers, and more. The company designs pump to outlast competitors and provide optimal performance during this period.
Powerful 4-stroke engines
Of course, the heart of any water pump lies in the engine, and Honda understood this fact. The commercial-grade efficient Honda engine has a pull, easy start system and ample power in the toughest conditions.
Honda engines have been known for their sturdy construction, providing quiet, fuel-efficient, and reliable power.
Outstanding quality and reliability
When choosing Honda water pumps, you're guaranteed a steady power supply all day. Honda has a great reputation for surpassing expectations and giving good quality year after year. The company has received numerous awards and global recognition as a leader in the industry.
Top dealer support
All Honda water pumps are backed by a comprehensive warranty and a top dealer network in the country. With so many authorised dealers countrywide, finding a local dealer is easy. And it comes with the best in class services. The company instils integrity and transparency, especially along the distribution chain.
Types of Honda Water Pumps
Honda offers a wide variety of solutions when it comes to water pumps, and more often, choosing an ideal pump can turn out challenging. So, we've narrowed down some of the best picks of Honda water pumps.
Water Transfer Pump
Water transfer pumps are used in home and commercial applications to remove water from an area or push water into another location. Honda has a variety of water transfer pumps with notable designs, including the Water Master Honda Transfer 4" Water Pump and the Honda WX10 Transfer 1" pump.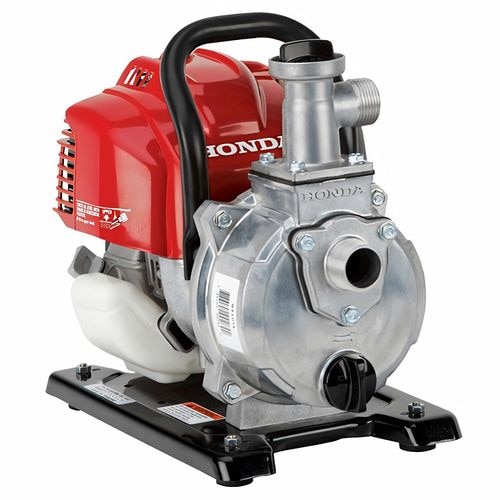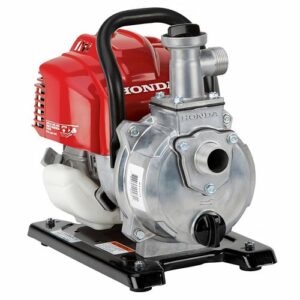 The WX10 is a portable and versatile pump, able to handle large volumes of water with its Honda Generation II mini 4-stroke GX25 engine, the same engine that powers Honda's handheld products. The mini 1" volume pump has a maximum suction head of 8m and a total head of 36m. The WX10 has fewer emissions and noise than the competition in its range.
The Water Master Honda Transfer 4" Volume Pump is powered by the robust Honda GX390 engine that flows up to a maximum pumping capacity of 1680 litres/min. The Honda pump has an electric start option and a total head of 34 m.
Fire Fighting Pump
Whether you need pressurised water for your machinery or preparing for the bushfire season, choosing a versatile and reliable water pump is satisfying. The Honda Water Master Fire Fighting pumps are perfect for this task. Our two picks include the Honda Water Master Fire Fighting 1.5" Water Pump and the Honda/Davey 5155H.
The 5155H has an impeller design and improved performance for easier disassembly whenever there is a blockage. It is made with a single-stage design and a quality corrosion-resistant grade aluminium construction. The Honda/Davey 5155H has huge priming and drain ports, a safety retention system, and low-oil protection.
The Water Master 1.5" Fire Fighting Pump has an impressive flow of 570 litres/min powered by the Honda's famous GX200 engine. You can rely on this pump for heavy work and harsh environments such as floods or bushfires.
Trash Pump
Trash pumps are made to move dirty water, which may contain leaver, twigs, and pebbles. It has large impeller veins and pumping housing, and the trash pump does not grind any liquid and shifts water intact. , High horsepower engines power the best trash pumps, and that's where Honda comes in.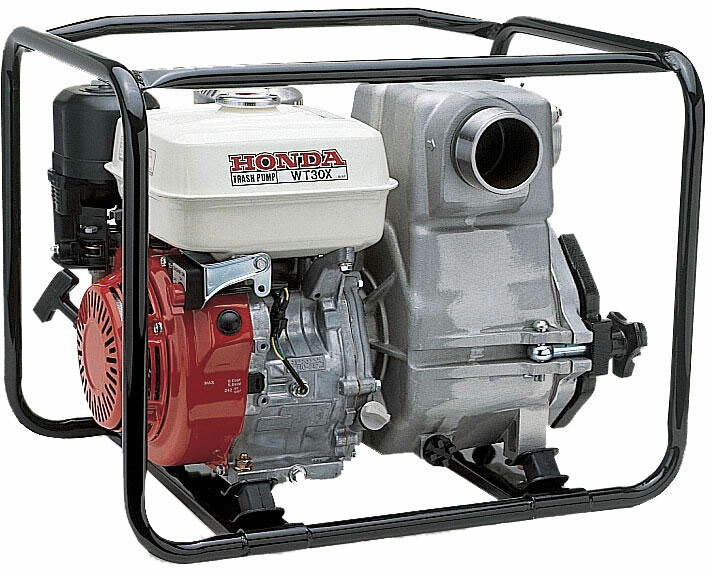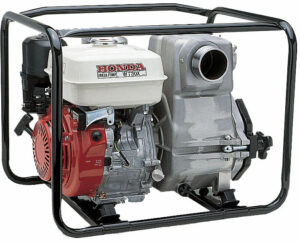 Our top trash pump picks are the Water Master Honda 3" Trash Pump and the Honda WT20 Trash Pump.
The WT20 is a reliable 2" pump delivering up to 650 litres/min. The pump delivers quality and extensive reach with a maximum suction head of 8 m and a total head of 30m. It is powered with a flagship GX160 4-stroke OHV engine and works on unleaded fuel, so you'll never have to mix petrol and oil again.
The Water Master Honda 3" Trash Pump has a self-priming function with a massive 34 m total head. It flows up to 1400 litres/ min, making it one of the most effective trash pumps. The pump runs on a Honda GX240 4-stroke Petrol engine able to handle the large flow volumes.
The Honda Water Master 3" is an excellent trash pump, allowing up to 25mm of solids and debris without affecting it. It is efficient at handling slurry, construction site dewatering, and other functions. The environmentally friendly volume pump is built with durable components, and you can rely on the pump for decades.
Conclusion
Honda water pumps are revolutionary machines with capabilities that make work easier and, at times, save lives. The company is keen on designing pumps with low fuel consumption and emissions to facilitate a greener environment. Honda water pumps are worth trying out as they have passed the test of time since their inception.
Frequently Asked Questions
Where are Honda water pumps made?
Honda pumps are manufactured worldwide in four countries; India, Japan, China, and the United States.
Can you run a Honda water pump without water?
No. Even if it is in self-priming mode, running the pump without water can cause it to overheat and melt. If you need to warm up the gearbox or engine, switch off the pump first; otherwise, you'll ruin your water pump.
How much is a Honda water pump?
The price of Honda water pumps depends on the model and year of manufacture. For instance, 1-inch water pumps cost between $400 and $600, and a 3-inch model will cost higher and up to $800.
Also check out our Bianco pump review.