Do you own a property which uses solar energy from the sun to heat the water for your house? The chances are you do. A lot of older properties in Adelaide didn't originally have solar hot water installed when the house was built, but are now having systems retro fitted to save of energy bills. Nearly every new home these days has some sort of solar hot water system installed, whether it be a high line or lo line system with either gas or electric boost you will find these systems being installed everywhere. Classic examples of locations in and around South Australia which there is an abundance of solar hot water systems installed are Mawson Lakes, Seaford and low density inner city living. These booming new developments require a minimum of 5 Star energy rating so items such as Solar Hot Water panels are being used to keep the strain off of our power infrastructure. In some cases it may be just 1 solar panel or in others 2 panels, it's not until you start getting into the more commercial style installations that you will encounter banks of multiple panels.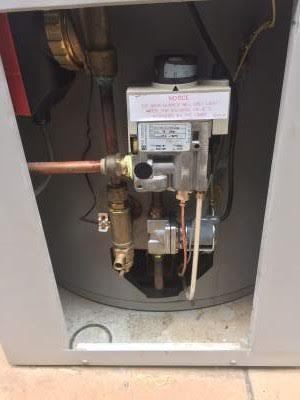 After time like many things parts and components start to break down and cause the system to either no longer produce hot water or only produce warm water. Some of the more common problems which we come across day and night as the Hot Water Wizards of Adelaide are as follows below.
If your hot water system is electric boosted you will have solar panels located on the roof and a tank either on the roof (Hi Line) or a tank on the ground (Lo Line). During the warmer months of the year where the average temperature is 28 degrees Celsius and above consistently the likely hood of the electricity being used to heat your hot water is slim, so it is only during the cooler months of the year when people start to notice that there electric element or thermostat is not working as the suns heat is not warm enough to heat the water in the tank and therefore they start to notice that they have no hot water. Replacing an element and thermostat in the tank is not necessarily a huge job and is likely to cost around $380 to $550 total depending on the location of the tank and access, expect to have to do this every 4 to 5 years.
If you're solar assisted hot water system is gas boosted there are 2 common systems. The first is with a small compact instantaneous hot water unit fitted to the front of the tank on the ground and the other is a storage style hot water tank on the ground also which has a gas furnace located inside the actual tank. Both of these systems still have the solar panels on the roof, it's just the source for energy is different when solar contribution is not enough. When we are therefore addressing common faults with gas boosted solar systems there can be quite a few as the unit gets older, but 2 of the more common break downs we come across are: Gas Solenoid failures, these control the gas into the burner via a time clock can over time break down and leave you with a hefty bill of around $600 supplied and installed.
Thermocouples which are a safety device fitted to these storage tanks which with have the gas furnace can at times play up and this would most likely be one of the cheaper repairs you will undertake at around $335 all up. There are of course other minor issues which can go wrong with your hot water system in general but not necessarily leave you withou thot water, items such as pressure relief valves blowing off continually leaking water and minor leaks to joints on the hot water systems all of which are relatively easy fixes. If your experiencing troubles with your solar hot water service call Adelaide's NUMBER 1 "TRUSTED" solar hot water repairer's we service all brands and models of solar hot water such as Rheem, Edwards, Solarhart, Apricus, DUX, Chromagen, Vulcan, Rinnai, Aquamax, Bosch and Hills.
Get the today benefits from over 20 years knowledge and experience call us NOW on 0429 361 819.