Commonly installed in offices, commercial kitchens and function facilities the Rheem Lazer boiling water units supply boiling hot water on demand for tasks such as making coffee, tea, soup, cooking and cleaning of work areas. The convenience of having water suitable for making instant soup or ready to clean dirty floors is something many people enjoy day to day throughout multiple locations across the state of South Australia.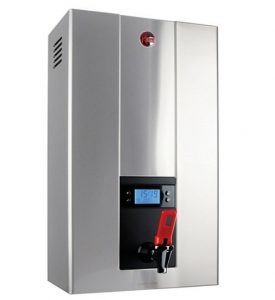 Rheem Lazer Review
The flexibility of having these boiling water systems available various sizes allows you to get a system which will cater to the demands of every situation. There are 3 different models on offer and they are as follows:
Lazer Eco
At the entry level of the range from Rheem offer boiling water through there Eco range. As the name suggests it is the more basic of the 3 systems on offer. This unit comes in 3 litre, 5 litre and 7 litre options. It has a simple one button control and is finished off in a sleek powder coated white cover.
Lazer Office
Fully programmable the Office range offers unique features allowing for the system to be automatically turned on during periods of high demand and off again during periods when not in use ie: weekends for office buildings. With a choice of either stainless steel or powder coated white the Office range has been awarded an International award for design. Available in both 3 litre and 5 litre models the Office range makes a fantastic addition to any work place.
Lazer Commercial
Once again as per the Office range the Commercial is fully programmable and available in both stainless steel and powder coated white. The big advantage of the commercial range is its ability to deliver up to 247 cups initially from the massive 40 litre model. Ideally suited to establishments such as fast food outlets and restaurants where a large amount of boiling water is needed for tasks such as washing down floors and sanitisation of food preparation areas.
When we look at the maintenance required on these systems throughout their life span there a few common tasks which we deal with:
Faulty cold-water inlet solenoid: This solenoid controls the delivery of cold water into the hot water tank. During the life of the system this valve can wear out and needs replacing with a new solenoid valve.
Calcified outlet tap: Adelaide is known for having hard water and it in turn shortens the life of many plumbing valves and fittings. The boiling water systems dispenser is no stranger to this problem and during the unit's life will most likely need replacing due to no delivery of hot water.
Failed element: When a client notices that the unit is no longer delivering boiling water or only warm water it is a sign that the element is deteriorating and should be upgraded.
Broken temperature sensor probe: If a boiling water unit is continually discharging water at a quick rate through the vent pipe it can indicate that the temperature sensor probe is not communicating properly and not providing the CPU with the correct temperatures.
Malfunctioning CPU: In some cases where all the above noted issues are working ok and there is still a problem with the unit not operating to the manufacturers specifications then it will most likely be a faulty CPU or control board
The Rheem Lazer boiling water units today have a good share of the hot water plumbing market and keep our technicians busy with general servicing and replacements as nothing lasts forever anymore. Through continually working with these systems we have become familiar with how these units operate and what parts are needed to be carried in the service vehicles to enable immediate repairs as no one likes going without there morning coffee. If your experiencing difficulties with your boiling water unit let us assist you, we cover all locations across Adelaide and in most cases, we will be out to you in the same day.