Statistically known as Adelaide's largest suburb Morphett Vale is only a mere 28-minute drive from the CBD of the city. But with all the up grading of South Road near Flinders Hospital and Flinders University this will certainly cut down the time in which it currently takes to get to and from home or work for the 23,000 plus residents who call this location home or who work here each day.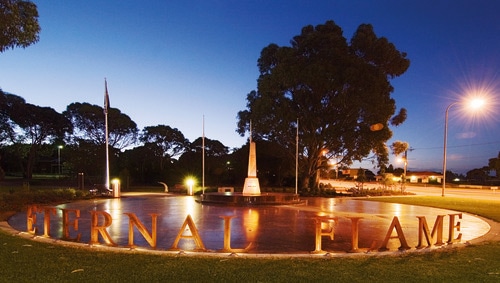 SA's Largest Suburb
With the recent completion of the dual direction multiple lane road way the southern expressway it has made our life a lot easier trying to get into and out of SA's largest suburb for various plumbing related tasks. Prior to the upgrade of the southern express way it was only open in one direction at various times of the day making it very inconvenient for us and many other people trying to commute at a timely manner, a design fault which was swiftly rectified due to public consultation.
Most of the major housing developments took place during the 1960's which saw Morphett Vale transform from rural plots previously used for cereal, mixed use farms and vine yards into land used to build houses and businesses. A typical style of house you will see today is with a tiled roof, brick veneer wall construction, gas storage water heaters, single storey, 2.4m high ceilings with 3 bedrooms and one bathroom. The average sized block of land is approximately 500 square metres and the average sewer drain pipe run is 30 metres in length. Due to the age of most houses they have under gone some form of renovation since being built nearly 50 years ago, whether it has been a kitchen revamp or just a small tidy up of the bathroom with a new vanity unit or perhaps a new toilet suite.
Expansion
Today the state's biggest suburb is defined by 4 distinct boundaries known as Sheriffs/Pimpala Road, Panalatinga Road, Doctors/Beach Road and the now Dual Lane Southern Express Way. It is not just houses which occupy this location of Southern Adelaide, there are currently over 1,000 registered businesses which operate here. Businesses such as Dental Surgeries, Car Dealerships, Fast Food Outlets, Hair Dressers, Manufacturing Warehouses, Wholesalers, Petrol Stations, Grocery Stores and Garden Centres all make the day to day living for the residents convenient. Other larger businesses closer by in adjoining suburbs such as Noarlunga is where you will find Bunnings and Colonnades Shopping Centre. These huge establishments are where you will find fair priced items in large quantities, not too mention a few tools for the service vehicles and safety gear.
Local Plumbers in All Surrounding Locations
Under the banner of the Onkaparinga council one of South Australia's larger council districts. The name of this council district comes from the Onkaparinga River which is from the Ngangkiparinga, a Kaurna word meaning women's river. The Onkaparinga Council stretches all the way out to Kuitpo Forest, Aldinga and back in towards the city at locations such as Flagstaff Hill and Happy Valley. While driving through these areas you will see the bright signage recently created saying Onkaparinga in various colours such as lime green, bright blues, yellow and red.
Having worked in and around these locations for many years we have noticed that a large percentage of the clients who we work with are in their late twenties through to their early forties and majority of them have young families. Given its proximity to the recently electrified Seaford Rail Line and a wide range of bus routes on option it makes life easier to get around without the need for having to drive and park a vehicle at some of the busier car parks.
Next time you see one of the plumbing service technicians from Mayfair Plumbing and Gasfitting be sure to give us a wave, the chances are we have just been to your neighbour's home.