Blackwood is a suburb of Adelaide located in the South Eastern foot hills region and has a current population of just over 4,000 people which call this lovely suburb home. Blackwood is approximately 13 kilometres from Adelaide's CBD via Unley Road and its post code is 5051.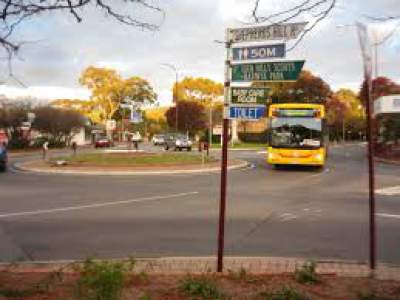 Recently Reece Plumbing Centres opened a plumbing, gas and bathroom supply branch in Blackwood located on Edward Street, this is just behind Solver Paints which is located on Main Road, Blackwood and opposite Coles Shopping Centre. It has been a blessing for me when performing Gas and Plumbing tasks as a Plumber Blackwood. The ease of now just being able to pop into Reece at any time for Hot Water Service Repairs and Installations, Leaking Toilet Parts, Tap Washers, Burst Water Main fittings for both copper and pvc pipes, New Tapware, Backflow Prevention Valve Parts and Fittings, Teflon Tape, Silicone and Gas Oven Spares has been a huge help, previously I was finding myself having to drive back down the hill to either Reece at Daw Park or even over to Reece at O'Halloran Hill if for some strange reason I wasn't carrying the right Plumbing or Gas Fitting to fix my customers plumbing issue in Blackwood as a Master Plumber.
As you drive into Blackwood from the North of Adelaide along Main Road you will see a Hotel named the Belair Hotel on your left hand side which is a very popular spot on a Friday or Saturday night for all the folks around that way including suburbs such as Hawthorndene, Glenalta, Eden Hills and Lynton. The Hotel was not always called the Belair Hotel however, it was originally known as the Blackwood Inn back in the 1800's and it is thought that the name Blackwood was derived from the large amount of Blackwood trees in the area, which makes sense.
When I think about the work that I perform as a Plumber Blackwood there are two common plumbing tasks that spring to mind over others: Blocked Drains and No Hot Water. Addressing the first point of Blocked Drains this would be for two reasons the huge amount of trees which line the suburb of Blackwood and the undulating land allowing for large amounts of ground movement causing stress on the drains which then causes them to fracture and allows tree roots to enter the drains, there is really no avoiding this type of plumbing maintenance when living in such a location and its very much the same in the neighbouring suburbs of Belair and Coromandel Valley. The second point I mentioned was Hot Water Service Repairs from No Hot Water. I put this down to a variety of reasons but mainly because it is so windy in Foot Hills of Adelaide the pilot lights on the Gas Hot Water Services often go out and also because of the harsh winters they experience in Blackwood it puts a lot of strain on the Hot Water Services meaning the Hot Water Systems are always working a lot harder to keep up with demand and that means when winter hits the requests for a Local Plumber Blackwood is very high.
If you enter Blackwood through the suburb of Eden Hills via Sheppard's Hill Road after dropping your children off at Blackwood Primary or Blackwood High School or even enter Blackwood from the suburb of Craigburn Farm via Coromandel Parade you are sure to come across two of the iconic landmarks in the suburb of Blackwood, they are the 5 way round about and the Blackwood Soldiers Memorial both located in the same area, the heart of Blackwood. After many years of being a Plumber Blackwood it has allowed me to refine my skills so tightly that today we are known as Blackwood's preferred plumbers and gasfitters – Mayfair Plumbing and Gasfitting offering same day Hot Water Service Repairs and Installations and Emergency Plumbing Services 24/7 Plumbers on demand anywhere throughout Blackwood South Australia.
Blackwood is under the state electorate banner of Davenport and falls under the City Council of Mitcham as do many of the other suburbs in Adelaide's lower foothills region such as Torrens Park, Westbourne Park, Bellevue Heights, Lower Mitcham, Clapham and Panorama. Mayfair Plumbing and Gasfitting also call the City Council of Mitcham home and we are very familiar with regular changes to council laws and guidelines. It's not unusual to receive a phone call from one of my customers and not even need the GPS to find my way around this area to help with a Plumbing Emergency or Gas Fitting job, being a Local Plumber Blackwood really counts.
Two of Australia's well known musicians/groups are from the suburb of Blackwood Beccy Cole (country singer) and the Hill Top Hoods (hip hop music). The Hill Top Hoods still call Blackwood home today, unfortunately I have not been lucky enough to perform any Plumbing Services for them in Blackwood, but you never know one day it may happen, perhaps a Burst Water Pipe or maybe a Gas Cook Top installation or maybe even a Hot Water Service Repair. Norman Tindale who was an anthropologist, archaeologist and entomologist also resided in Blackwood from 1955 to 1969 and his home was named the "Kurlge".
In the season of summer in Adelaide, South Australia the residents of Blackwood need to be on alert for potential bush fire threats and although this is yet to happen, places such as Coromandel Valley still have fire siren testing each Friday at 8:30am during peak bush fire season to just to keep the residents on full alert in case of a bush fire. Things like having your water wetting sprinklers working, deluge pumps and hose reels in working order are very important to help protect your property in case of a bush fire emergency and a good way to ensure this is all working is to employee the services from Mayfair Plumbing and Gasfitting and have a Plumber Blackwood attend your property at a time that suits you.
In the season of winter in Adelaide, South Australia the residents of Blackwood can experience very extreme cold weather and maybe even a small hint of snow in the peak of winter around July/August. Gas Heaters and Gas Fire Places are in over drive during winter keeping the people warm throughout Blackwood. I can defiantly tell you if a customer's Gas Heater or Gas Fire Place does fail our licensed Gas Plumbers Blackwood are the first know about it, things like a failing thermo-couple, blocked gas jet, flame failure device or a fan not working can cause real issues especially during the cold winter nights in Blackwood where temperatures drop below zero and that's why they call Blackwood's BEST Plumbers Mayfair Plumbing and Gasfitting.
Next time you're thinking about a Plumbing job that needs attention by a Plumber Blackwood and you want a local Plumber Blackwood and you need a friendly up front Plumbing company to perform this work think Mayfair Plumbing and Gasfitting "We know the foothills of Adelaide" and we love working for you in Blackwood helping with any type of Plumbing and Gas project large or small, residential or commercial we do it all, call us today on 0429 361 819 and ask for Aaron.