Living in Adelaide and the Adelaide Hills we have the advantage of being able to access gas for room heating quite easily. Whether it be bottled gas also known as LPG or Propane OR natural gas piped in from the street to our buildings, we are very fortunate in South Australia to have access to this fuel type for room heating, cooking and heating of water.
Testing For Carbon Monoxide
Gas is one of the most effective and affordable forms of heating a building or a room on its own.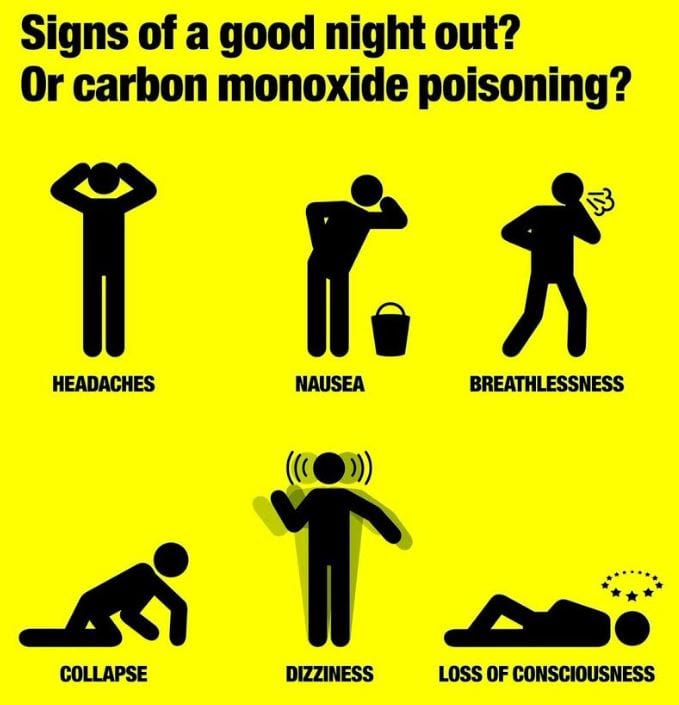 Like most things they do need regular servicing and maintenance for signs of carbon monoxide poisoning. Gas room heaters are no exception to this. Carbon monoxide testing is a huge to do thing on the list of owning a property with a gas heater every year. Mayfair Plumbing and Gasfitting service both residential and commercial properties for all appliance testing. Carbon monoxide is a silent killer you cannot see it or hear it and is very serious.
What happens for example when we sit down at night to relax in front of the heater is, we tend to get sleepy and often doze off in front of the heater (common). If you do happen to have a significant carbon monoxide leak you may never wake again from that sleep-in front of the fire. In the yellow image on this page you will see some important facts and signs which relate to carbon monoxide leaks and how your body may react to this problem indicating you have a problem. It is ideal not to let a situation come to this where you may start experiencing these side effects, so regular testing is our advice. Majority of our clients engage us on an annual basis before the cold weather starts in Adelaide and that's typically in May.
One Hour Test
Performing a carbon monoxide test is a relatively simple process in most cases and providing there is no fault with the appliances it can be done within 1 hour, it makes perfect sense to have this done right? During a carbon monoxide test we like to see an appliance properly burning as it was intended by the manufacturer and produce what is called "ideal burn" during combustion which presents no danger of carbon monoxide poisoning. A simple test such as this can be a life saver.
Late Friday a field officer from SA Water attended the property and confirmed that the drain runs through the neighbours back yard and then onto Clyde Street (not a typical route for sewer drains in Adelaide). Now armed with some further information we returned to the house Saturday to clear the blocked drains.
Book In Advance
It is the colder months of the year when we are most busy with this service of testing gas heaters for carbon monoxide leaks so bookings in advance are advisable to ensure your appliance is tested as soon as possible.
We also offer the services of gas heater repairs so in the case that your appliance may need additional work we have you covered all under the one umbrella, that's the Mayfair difference. Find out just why so many of our clients are happy with our Gasfitting services for yourself today.