When we look at pumps that transfer liquid waste such as sewer, they need to be able to handle solid particles much larger than a conventional sump pumps used in a domestic storm water holding facility.
Cutting, grinding or macerating pumps use cutting blades to munch up the waste which in turn enables the pump to then transfer the waste. Majority of sewer pumping systems can handle particles up to 35mm in diameter allowing for objects which might get missed in the macerating process to still be moved through discharge lines.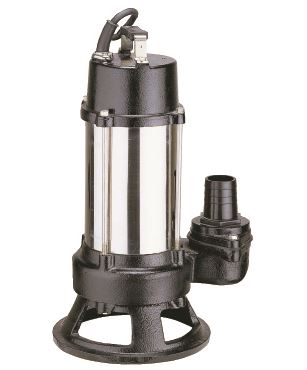 What A Correct Pump Installation Should Comprise Of
In a correctly installed sewer pump station, the discharge hose will be a minimum of 1/2inch/40mm in diameter and most of the time it will be 2inch/50mm in commercial applications. In a commercial application there will typically be two pumps installed inside the chamber. It is crucial that these discharge lines have a non-return valve that works to avoid short cycling of the pumps.
The submersible macerating pumps are controlled via float switches which tell the pump when to turn on and also when to turn off. If in the case of a fault there is also a high-level float which will activate a high-level alarm (visual and audible) to bring the problem to the attention of the property owners which will need to have a service company such as Mayfair Plumbing to attend the pump fault. Our licensed pump technicians are trained to work on all types of sewerage pumps, and we carry all the parts to repair all the major brands across Adelaide and the Adelaide Hills of South Australia.
A good quality pump for this application will have a solid cast iron external body with high quality internals for the shaft made from stainless steel and the cutter blades made from hardened tungsten metal. The electrical workings which are submerged will be encased
inside a triplex seal system to protect the motor for electrical failure.
Applications Sewer Pumps Are Used In
A sewer pump is used for applications where conventional methods of transferring waste via gravity cannot be achieved. In Adelaide we find many homes in St Georges, Springfield, Bridgewater,Crafers and Beaumont have a sewer and storm water pumping station
installed. These properties are set up with rooms where the drainpipes are below the level where gravity fed drain lines can remove the liquids.
A drain will be installed the same way as if it was going to street connection except it will now go to the storage chamber below ground level. These pumping chambers are not always installed in the ground. Take for example a multi storey building in the CBD where they have car parks below ground level you may find a pumping station installed on the floor at the lower levels of this car park with all the drain lines suspended and graded to fall into this pit.
Ongoing Maintenance
Like most pieces of infrastructure installed for plumbing they are quiet often out of sight and out of mind. It is for this reason Mayfair Plumbing recommend quarterly inspections of all pumps. A quarterly inspection involves testing of all float switches, testing of non-return valves, cleaning of chamber and all parts (including ensuring all cables are free to moves), running of pump and check impeller is free of any obstructions and confirmation that all electrical components inside the control box is working including the high-level alarms both
audible and visual.
Whatever your sewer and storm water pump requirements are across Adelaide and the Adelaide Hills of South Australia you can trust Mayfair Plumbing for all your pump needs.
We offer and all hours 7 days of the week emergency call out service in the case that your pump breaks down after hours. Just call 0429 361 819 and get fast reliable pump repairs today.