Just a short 16km drive from Adelaide's CBD that's where you will find Flagstaff Hill. The name of the suburb itself is quite unique in that it was given after Colonel William Light erected a flag staff during his survey of the land, this point was later used as a trig point.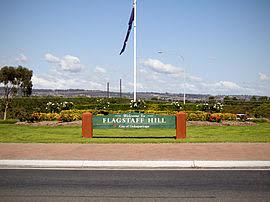 Today this location is home to nearly 10,000 residents and at times we find ourselves sending numerous plumbers to this suburb. Items such as Vulcan quick recover 135L gas hot water services are now being upgraded to either continuous flow models or similar replacement hot water units such as a DUX prodigy 5 gas storage hot water units with a minimum of 5 stars for energy efficiency.
The recent upgrading of the southern express way to now have lanes open in both directions has allowed our tradesman and women to get to emergency plumbing situations within the hour every time. Currently the intersection of the southern express near flinders university on and off ramps is undergoing a major transformation which will again improve our efficiency in getting our licensed staff out to all of our customers instead of sitting the notorious slow moving south road traffic.
Our experience in and around Flagstaff Hill, Happy Valley and Aberfoyle Park has shown us that the majority of sewer and storm water pipes are constructed of PVC pipe systems, although this type of pipe work is more resilient to tree root infestations like everything after time things break down. With the movement of the ground glued pipe connections break and slowly start to leak water into the soil. When this process begins to happen the trees roots sense the moisture in the soil and begin to intrude into the sewerage systems. On average residents in the Onkaparinga council find themselves needing the use of our hydro jetting machine every year and a typical un clogging of a drain line takes around 1.5 hours. At the end of every successful clearing of a sewer line we always perform a paper test which proves that the intrusion into the line have been removed adequately to give a good flow back to the sewer system.
As we are increasingly noticing in the news headlines Adelaide is experiencing a large number of broken water mains weekly. This is a particular task which keeps our afterhours division of our plumbing business busy. The material in which these pipes are made of varies from high pressure PVC through to copper and galv. Each of these materials has their strengths and weaknesses, the metallic type of water mains is much more durable, but in most instances the initial installation cost is higher. PVC water mains are far cheaper when installation is considered, but over time this pipe work can become brittle and crack especially with movement in the soils. Our service vans are continually updated with the correct stock levels to deal with any particular water main break. A great piece of technology which helps us to get a copper water main fixed fast is Viega, this is a type of product which allows us to slip fittings over broken pipes while they are full of water and crimp them together sealing the water pipe off again. As far as quickly repairing a broken PVC pipe we use red hot glue, this can be used when the pipe is still wet and will hold mains pressure up to 1000kpa after 10 minutes.
Next time you're looking for a plumber in Flagstaff Hill, think Mayfair we have the monopoly on the plumbing market.