Woodville is one of the first suburbs to settled in Adelaide and is only 8 kilometres to the CBD. In 1853 Woodville consisted of only 24 houses and one wheel wrights shop, going forward to 2014 Woodville now has a fast growing population of well over 2,000 people. The age and history of this suburb mean the demand on Plumbing and Gas services in the area are high. The area comprises of some of Adelaide's main arterial roads such as Port Road and Woodville Road, Woodville also houses one of our largest Hospitals the Queen Elizabeth and is in the council district of Charles Sturt.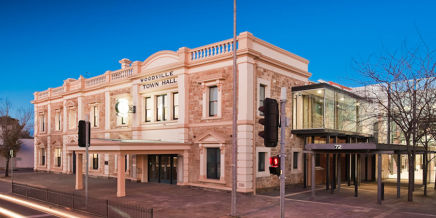 Old Infrastructure
The drain pipes are what are particularly old in Woodville when we are talking about gas and plumbing, with the ageing of these sewer and storm water drains comes blocked drains. The majority of the drains lines in this suburb are still constructed of the clay also known as Earthern Ware. Over time the ground has moved and caused these pipes to crack and move away from each other, this then allows for the invasion of tree roots. Because Woodville was originally used for dairy farms back in the 1850's the soil in these parts is extremely rich in nutrients and you will find that trees and plants grow extremely well in these parts of Adelaide. This means blocked drains and lots of them. Regardless of the type of blocked drain lines that come about in Woodville, Mayfair Plumbing and Gasfitting can get the flow back in your drains by using there Hydro Jet Drain Cleaning Machinery. Small drain pipes such as 40mm or 300mm are all very common throughout the City of Charles Sturt and these can all be cleared cheap and fast by a licensed Woodville plumber who works at Mayfair Plumbing and Gasfitting. With there 20 years of experience they know the sewers around Woodville like the back of their hands, getting problems solved quickly.
For many years Woodville was home to the very famous Cheltenham Horse Racing course. It is only of recent times that the land mark location has been re structured to create hundreds of new homes for people and their families. With this massive transformation comes the installation of thousands of different types of plumbing parts such as water pipes, gas pipes, toilet suites, taps, hot water, backflow valves just to name a handful, this is not only creating plumbing jobs now but creating future plumbing maintenance work for the future.
With the rich agricultural history surrounding Woodville and the age of the infrastructure there are constantly problems with anything that is installed in the ground, due to soil movement, that requires a Woodville plumber. Problems that arise are burst water mains, ruptured gas pipes and broken sewer drains. In most circumstances when a pipe does break and is un expected is needs an emergency plumber to attend, dig up, locate and repair the offending pipe. Mayfair Plumbing and Gasfitting offer 24/7 emergency plumbers in Woodville and can attend within the hour and get the plumbing emergency under control.
The Population
Residents who have lived in Woodville for most of their life such as the early European immigrants who came out to Australia in the mid-19th century have more than likely replaced there hot water service more than once. Most of the earlier houses started with the old style of hot water heating which was the low pressure ceiling mounted hot water unit, these were either gas of electric powered. But over time and with the change in hot water technology most residents have changed to the new gas instant continuous flow hot water heaters which now provides them with mains pressure instant hot water whenever they need it. These new styles of hot water units not only provide large amounts of instant hot water but are compact and discrete, which is very attractive to most people. The team at Mayfair Plumbing and Gasfitting are experts when it comes to Hot Water Repairs and can fix any type or age of Hot Water Service in Woodville.
The more traditional styles of houses such as the bungalow, tudor, villa or cottages are still very popular today with the modern investor. These houses can be picked up at auction or sale in their original condition. In most circumstances the new owner will get the bathrooms, kitchen, laundry and toilets renovated, whether is a complete overhaul or maybe just a facelift there is always a lot of plumbing work to be performed because that is what a bathroom or laundry comprise of, plumbing and water pipes. When selecting a plumber to do this work for you look no further than Mayfair Plumbing and Gasfitting they use all their own trades and keep the work all in house meaning you only ever have to deal with the one contractor, giving home owners a stress free renovation process in Woodville. Call our Woodville plumber today.