North Adelaide is now home to an international renowned sporting oval. The Adelaide oval in the last 4 years has under gone a $535 million dollar redevelopment. I personally had the pleasure of being involved with the very early stages of this work as North Adelaide Plumber when the cricket change rooms where relocated temporarily. 3 phase instant electric hot water services were installed to supply instant hot water to the showers and hand basins, many years have since passed and that is literally water under the new River Torrens Foot Bridge, so to speak!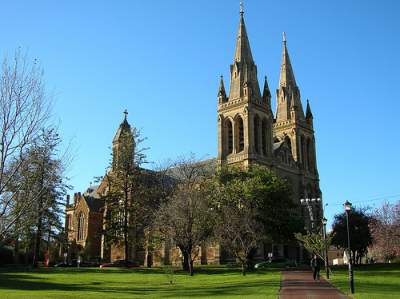 North Adelaide Layout
The layout of North Adelaide in South Australia 5006 is truly quite unique and unlike any other suburb in SA. Nth Adel is set out in 3 very distinct grid formats all varying to suit the geography of the land.
In what the locals would refer to as Upper North Adelaide you are going to find the largest grid of the 3 with Wellington Square in the centre which is also home to the Wellington Hotel and North Adelaide's TAB, we are the preferred North Adelaide Plumber for this hotel. Mayfair Plumbing and Gasfitting have been helping the chefs in the 2 kitchens at the rear of the pub for years now with their Gas Ovens and Gas Cookers as licensed Gasfitters, Blocked Grease Lines, Dripping Taps over the huge Stainless Steel Pot Sinks and let's not forget the occasional Emergency Plumber North Adelaide call out late at night. The main street of North Adelaide known as O'Connell Street which was named after the late Daniel O'Connell is a continuation of Main North Road if you are coming from the suburb of Fitzroy 5082 and the end of King William Street if you are entering via Adelaide's Central Business District, it is North Adelaide's main hub for food, entertaining, general shopping and the famous Piccadilly Cinemas one of Adelaide's oldest movie theatres owned by the Wallis group of cinemas.
Home to South Australia's Women and Children's Hospital (W&CH) is located in North Adelaide. You will find this in the smallest grid of the 3. This is another location where I have spent a lot of my time as a Plumber North Adelaide, almost 3 years in total on various projects both in the Hospital and across the road on Kermode Street in the buildings which now house the Little Hero's charity, previously known as the McGuinness McDermott foundation.
During my time as a North Adelaide Plumber working on the W&CH (Women's and Children's Hospital) I spearheaded some of the Hospitals milestone redevelopment's as the Senior Plumbing Projects Manager, below is a small selection of the major projects from the 12 in total I successfully delivered for the Women's and Children's Hospital as Plumber North Adelaide:
Emergency Department Upgrade/Expansion: This was a 12 month project and involved the addition of high dependency rooms and new ambulance bays. New sewer drainage was installed along with new hot and cold water reticulation. In the second fix stage of the project Caroma Hospital Basins were installed along with CB Ideal Tapware which was specifically designed to suit the needs of the hospital, your fore arms are used to turn the taps off so when the doctors and nurses have dirty hands they don't need to contaminate the taps etc.
Play Deck Café: This is an area in the centre of the hospital. It was originally just an open space with a few chair and plants. Today it now houses a café with play equipment for the children. This was quite an extensive project involving storm water drainage, hot water services, backflow prevention and a grease muncher. Working as Plumber North Adelaide on the Play Deck Café was a great experience and the project flowed smoothly it was completed in approx. 3 months.
Upgrading of Major Sewer Infrastructure: Below the hospital is a large area where majority of the patients records are stored, this is also where majority of the hospitals sewer infrastructure combines and exits the premises out to the SA Water sewer infrastructure system on Sir Edwin Smith Avenue. Over the many years of use the old cast iron pipes have started to leak and break down internally. These pipes were replaced with new HDPE Sewer Drains by the local North Adelaide Plumbers. It was a task which could only be performed late at night when the hospital was at minimal use, even then not all the drains could be stopped from flowing so this was a very messy job for the Plumbers North Adelaide.
Hot Water, Drains & General Maintenance
Lower North Adelaide the last of the 3grids which make up the suburb of North Adelaide 5006 in South Australia is where you will find Melbourne Street, just behind Melbourne Street on Finniss St is home to Adelaide's second oldest public houses and is today used as a pub called The British. You can often find our plumbers at the Store Café on a Sunday morning after a long weekend of Emergency Plumbing North Adelaide, they make great eggs on toast and knock up a mean chocolate milkshake for the kids.
If you happen to be flying into Adelaide from another state you will most likely cross over North Adelaide and will clearly see the beautiful parklands which surround the whole suburb, these are irrigated through either medium hazard backflow prevention devices (DCVA) or high hazard (RPZD) depending on the intended water use. Our Plumbers North Adelaide have over 20 years of experience in testing, repairing and installing backflow valves especially throughout these parkland areas. When looking over the suburb of North Adelaide you will be certain to notice St Peters Cathedral it is situated on approximately 1 acre of land (4,000 sqm) on the corners of Pennington Terrace and King William Road, if you look close enough upon entering you will see an ornate rose which depicts stories of South Australia and the Bible. Mayfair Plumbing and Gasfitting have not had the pleasure of performing plumbing and gasfitting inside this church in North Adelaide, but considering its age one imagines the water and sewer pipes would be very old, with items such as lead waste pipes for the toilets, galvanised waste lines picking up kitchen sinks and potentially the old steel water pipes leading to many fixtures such as hand basins, taps and showers.
Finding a reliable Plumbing and Gas Company in suburb of North Adelaide which was established in 1837 is never going to be easy, BUT one thing you can rest assure is that when you do pick up the phone and call Mayfair Plumbing and Gasfitting you will actually be speaking with a Plumber North Adelaide, so call us today on 0429 361 819.